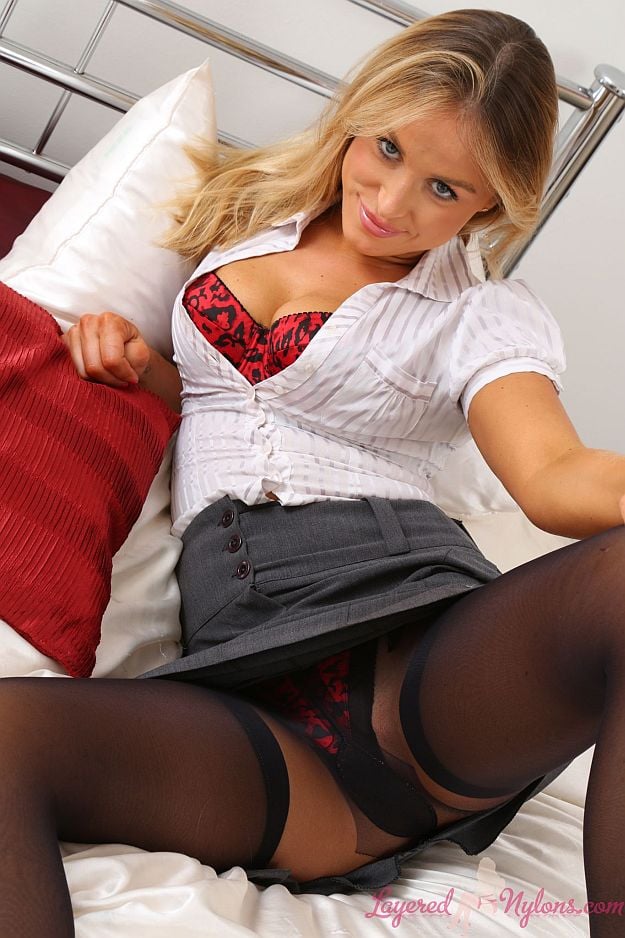 Blonde secretary Rosie stood and posed, hands around her hips of her long, grey pencil skirt, her legs in black hosiery and heels. Her ample boobs were almost popping the buttons on her white, sleeveless shirt, giving us a glimpse of her bra through open front.
Rosie pulled up the hem of her skirt, giving a tantalizing look at her black suspenders and stocking tops. Unzipping the front of the skirt, it dropped to the floor, revealing the skimpy, red and black, pantie thong under a layer of black, sheer nylon tights.
Rosie sat on the bed and looked up, giving a view of her cleavage as she slowly unbuttoned her shirt and stripped it off, uncovering the red and black patterned bra that matched her panties.
Laying on her back, Rosie kicked off her shoes and lifted her legs high, holding them together and crossing her ankles to give a close-up of her slender feet in their layers of black nylon.
Rosie stripped away her bra and uncovered her all natural breasts, standing on the floor in her stockinged feet, her hands fondling her boobs as she posed topless in her lingerie and nylon hosiery.