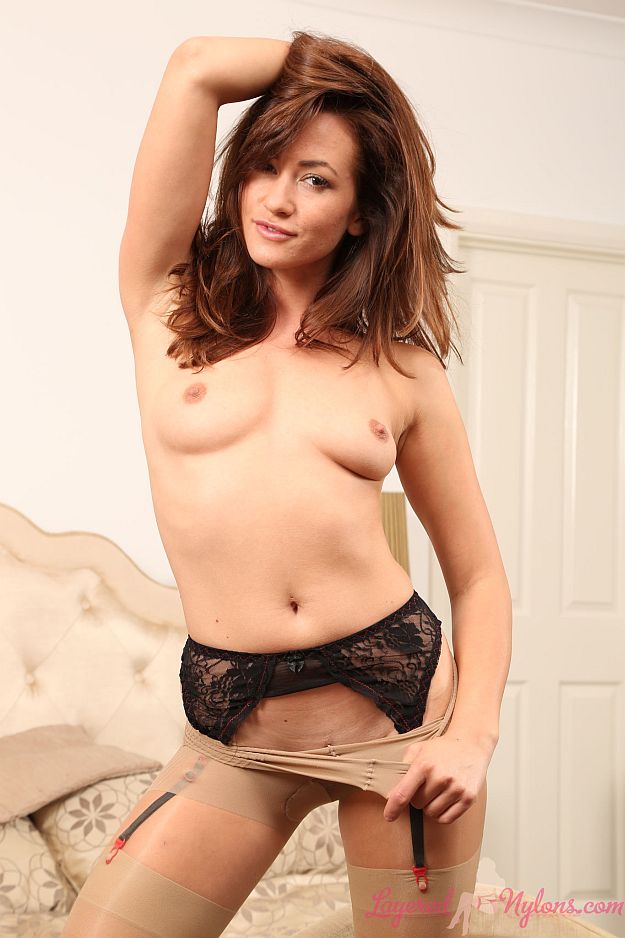 Tess knelt on the bed with her knees apart in her short red dress, showing the crotch of her red panties layered over beige-tan pantyhose. She slipped the shoulders of her dress down her arms and the front opened wide, revealing her matching red and black lace bra.
Tess stood and stripped off the dress, letting it slide down her body and slip down her stockinged legs to the floor. She turned and looked back, combing her hands through her long brunette hair, showing the 'whale-tail' of her matching pantie thong, stretched between her pantyhose clad buttocks.
Tess stripped off the bra and stood in her heels, posing in her lingerie and showing off her petite, all natural breasts. She hooked her thumbs into the waistband of her panties and pulled them down, revealing her nakedness behind the crotch of her beige nylon pantyhose.
Laying on the bed, Tess lifted up her legs and stripped the panties down so they were stretched between her ankles and stiletto heels. Removing the panties, she posed naked on the bed, stretching her pantyhose around her hips and pulling the opaque gusset tight around her naked crotch.