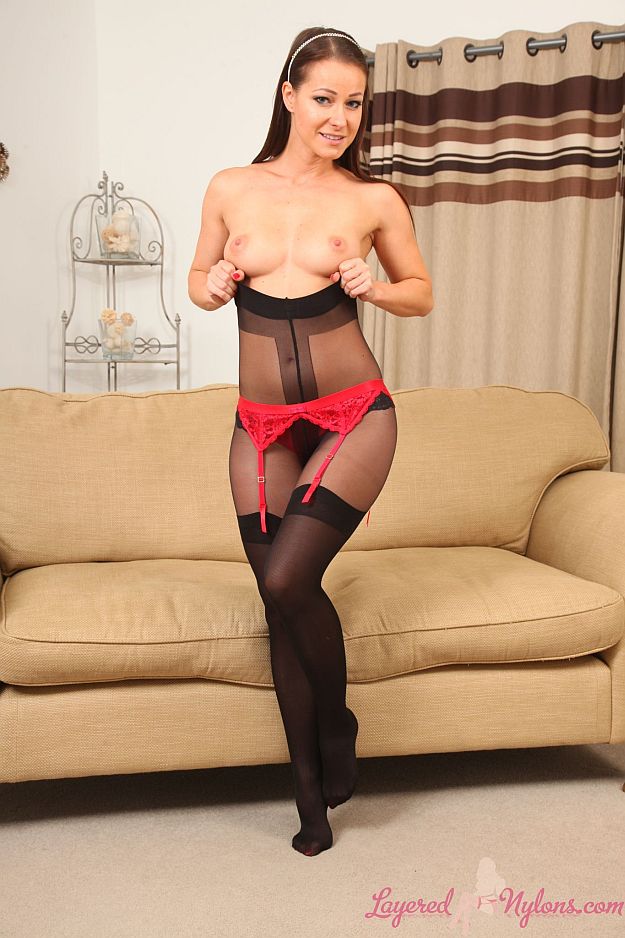 Kristina smiled, standing with one hand on her hip, posing in a close fitting dress that clung to her curves, the faint outlines of her suspenders showing through the material around her thighs.
Kristina sat on the arm of the sofa with her dress pulled up around her waist and spread her legs wide. The red lace suspender-belt and webbing of her suspenders stretched across her nylon clad thighs, pulling on the tops of her black nylon stockings and framing the red panties under the layer of her sheer nylon pantyhose.
Kristina stood, lifted one foot onto the sofa and ran her hand over her ass and pantyhosed thighs, bound by the red suspenders attached to her stockings. She pulled the dress up and over the red bra around her chest and er hands pushed her breasts together, uplifting the soft flesh of her cleavage inside the black lacy cups.
Kristina stripped off the dress and stood with her back to us with her legs wide apart. She ran the palms of her hands over the cheeks of her ass clad in the black lace pantie thong and sheer nylon. Bending over, she reached down to her ankle and drew her hand over the layers of black nylon hosiery that covered her shapely legs.
Kristina stripped off her bra and posed topless as she extended her legs, then slipped off her stiletto heels and let them dangle from her stockinged toes.