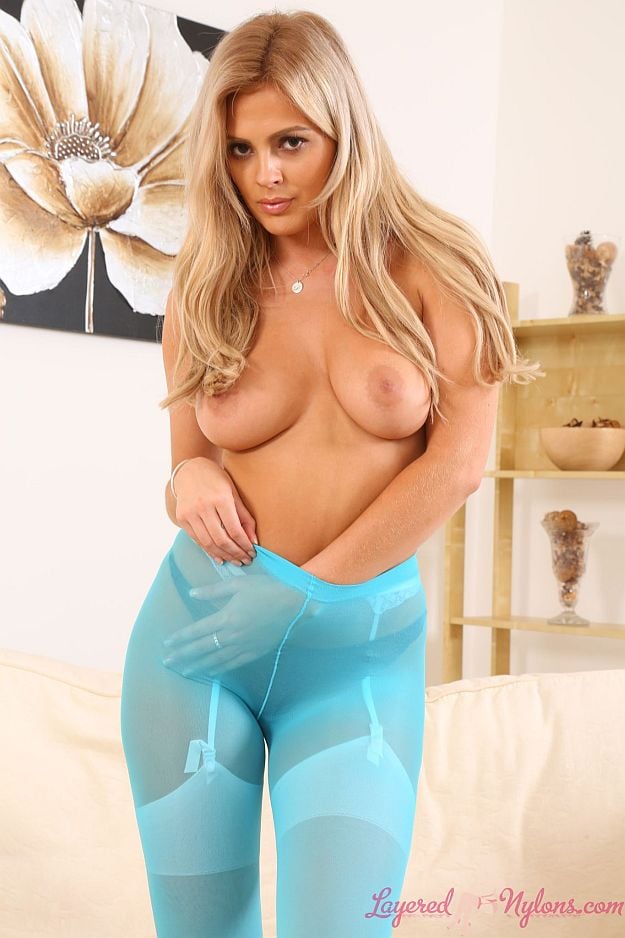 Pretty blonde Serena reclined on the the sofa, resting her head on one hand, her beautiful hazel eyes gazing back at us and soft pink lips slightly parted. She teasingly pulled back her turquoise dress over her thighs, revealing white suspenders and stockings under a layer of coloured, sheer nylon pantyhose.
Serena pulled back her legs and reached down to slide her fingers inside one of her heels and slipped it off, letting it dangle from her feet. Removing both of her heels, she stretched out her legs over the back of the sofa and pointed her toes inside her coloured layers of nylon hosiery.
Serena got up and stood in her stockinged feet as she stripped the dress off, revealing her shapely ass in a black pantie thong, under her sheer nylon pantyhose. Her long blond hair cascaded over her shoulders as she turned and displayed the fullness of her beautiful, all natural breasts.
Serena posed topless in her lingerie, slipping her hand inside the front of her sheer hose to caress the soft flesh of her thighs under the stretchy layer of her turquoise, sheer nylon pantyhose.