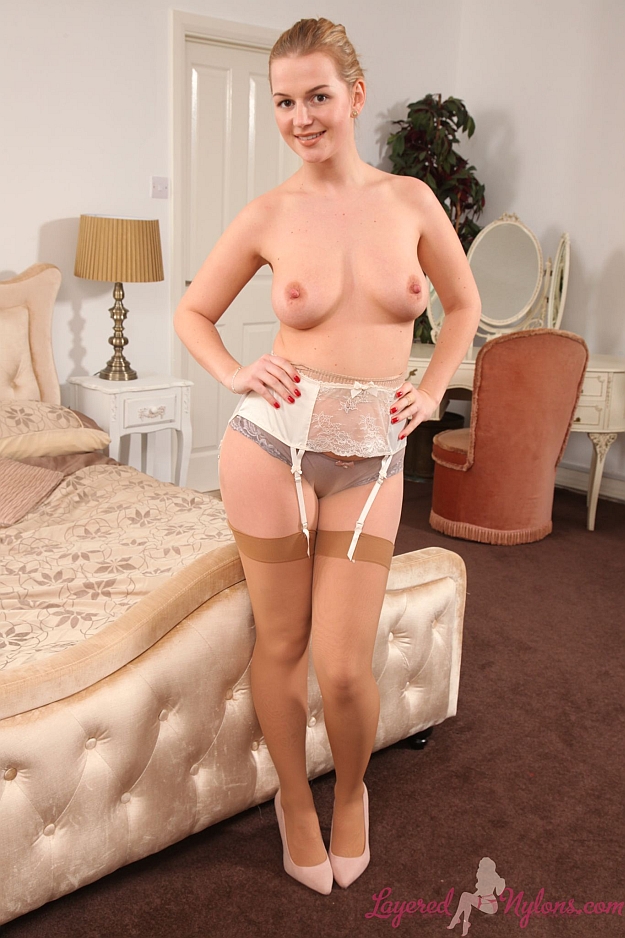 Erica stood and posed in an elegant evening dress that clung to her curves and showed the outlines of her underwear beneath the clingy material around her thighs. Sliding the shoulders of the dress down her arms, she pulled down the top half and uncovered the soft flesh of her beautiful natural breasts and their pink, puffy nipples.
Stripping the entire dress from her body revealed lacy French knickers under her beige, sheer nylon pantyhose. A vintage style, white lace garter-belt clung to the curve of her shapely hips and the thin suspenders pulled on her tan stockings, all of which were layered over the nylon tights that covered her ass and legs.
Erica stripped off the dress and turned to give a view of her shapely buttocks clad in lace panties and sheer nylon hose, bound by the elongated straps of her suspenders straining on the tops of her tan stockings.
Reclining on the bed she posed topless in her lingerie and her stockinged legs brushed together as she raised them vertically and displayed her stiletto heels.