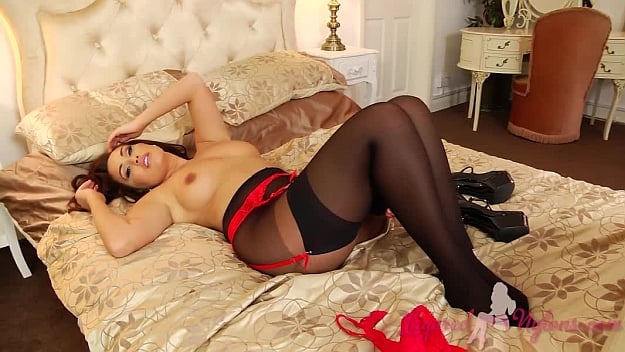 Becky Dee looked incredibly seductive as she ran her hand through her long brunette hair and licked her lips, caressing her body through the figure hugging dress that clung to her classic curves. Teasing down the zip at the front of her dress she leaned forward and her hands pushed the bare flesh of her rising cleavage out of the open top.
Kneeling on the bed, she slowly raised the hem of her dress and revealed the cheeks of her ass in a red panties and sheathed in black nylon hose. Her hand caressed her nylon clad buttocks, bound by red suspenders that stretched and pulled taut on the tops of her stockings.
Becky slipped off her shoes and her legs moved seductively across the silk bed covers while gently rubbing her pretty, nylon clad feet together.
She swung her legs around and sat on the edge of the bed looking up as she pulled the top of her dress open. Her hands squeezed her boobs together inside the cups of her red bra which displayed the soft flesh of her ample cleavage.