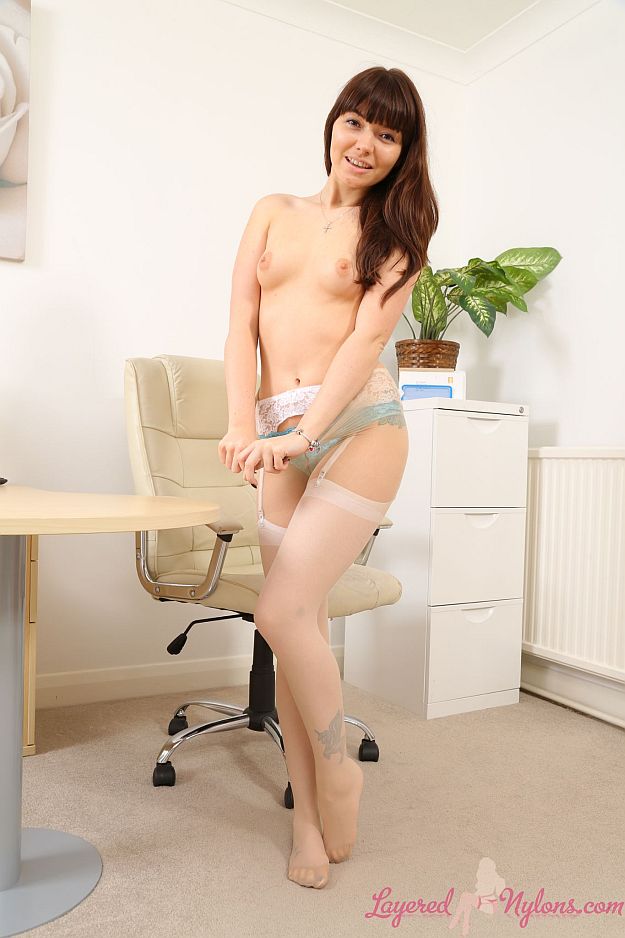 Cute brunette Helen G is a fun girl to have around the office, always smiling and lifting up her skirt to show us her suspenders and stockings tops.
Today, she arrived wearing a tight blue top and  a short skirt, and we could see her suspender straps as raised outlines through the material around her thighs.
Helen turned, looked back over her shoulder and smiled as she slowly lifted up her skirt, revealing white suspenders and stockings under a layer of beige, sheer nylon pantyhose. She leaned back against the edge of the desk and pulled the skirt up around her waist to show the turquoise lace panties under her sheer nylon hose.
Helen bent slightly, revealing her lovely ass covered in the thin layer of nylon hosiery as she stripped the skirt down her stockinged legs. Then she sat on the desk top and pulled on the pantyhose waist, stretching it to one side to show the white lace of her suspender-belt and her blue panties.
Helen stripped off her top and released the catch of her beautiful turquoise blue bra, slipping the straps down her arms and stripping it away to uncover her petite all natural breasts. She stood and stretched the pantyhose up her tummy, so it was pulled over her naked breasts and tight around the crotch of her blue lace panties.