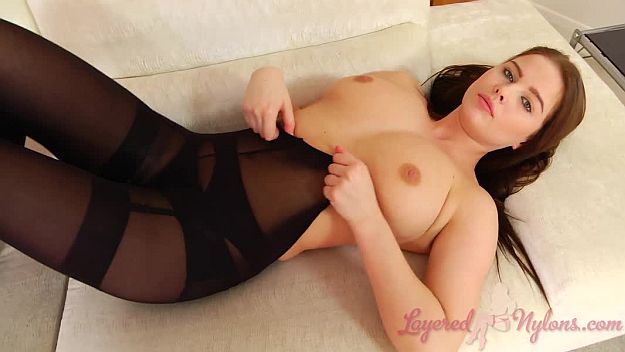 Busty brunette Kay ran her hands over her black and white dress that clung to her figure, her shapely legs looking superb in black nylon hosiery and open-toe, stiletto heels.
Kay knelt on the sofa and pulling up her dress she presented her gorgeous ass, and caressed the cheeks sheathed in their layer of black nylon pantyhose. A pair of black sheer panties clung to her buttocks, and long black suspenders stretched around her thighs and pulled on the tops of her stockings under the layer of her sheer nylon pantyhose.
Kay slipped the dress over her shoulders and down her arms, the top half to falling away as her hands played over the the mounds of her all natural, full-sized breasts. Her hands roved over her naked chest and voluptuous titties, caressing and uplifting the soft flesh of her gorgeous boobs and brushing over the erect, pink nipples.
Kay pulled the dress over the cheeks of her ass and it slipped down her nylon clad legs and dropped to the floor. She stepped out of her dress, her hands sweeping over her nylon clad hips and thighs and up to her beautiful boobs as she posed topless in her black suspenders, stockings and sheer nylon pantyhose.