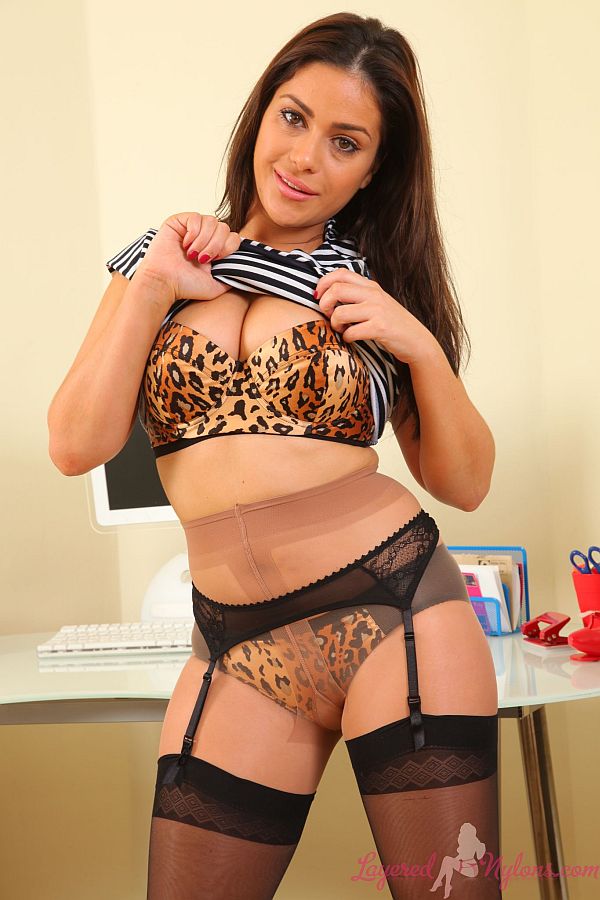 Busty secretary Keira looked totally gorgeous at the office today as she sat in her chair and caressed her legs in their black hosiery, drawing attention to her black, stiletto heels.
Keira's luscious lips curled into a seductive smile as she leaned against the edge of the desk, then slowly raised the hem of her dress, inch by inch, revealing the tops of her sexy black nylon stockings.
Keira lifted the dress further up her thighs to show she was actually wearing a layer of tan, sheer nylon pantyhose under her stockings. Then she stood and turned to pull her dress at the back, fully revealing her leopard-patterned panties, clinging to the curves of her sexy ass, under the layer of her tan nylon tights.
Keira stripped off her dress, revealing a matching leopard print bra, which supported her sumptuous breasts and pressed her cleavage together in a most enticing way. Then she knelt on the office floor and presented a view of her ass, her black suspenders stretching over the curves of her fabulous buttocks, sheathed in their sexy panties and shiny nylon tights.
Keira sat in her chair once more and removing her bra, revealed her all natural tits, then slipped her hand between the layer of her hose and the tops of her stockings. Finally she slipped off her heels and stood in her stockinged feet, while posing topless in her lingerie and layers of stockings and pantyhose.