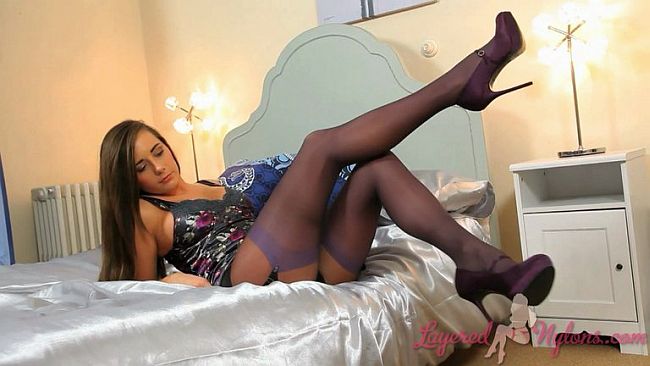 Laura's party dress had a very shiny look and flared out at the bottom as she turned to show off her legs in their black hosiery and heels.
She gathered the slinky material of her dress and lifted it up to show she was wearing plum coloured stockings, attached to black suspenders, all under a layer of black, sheer nylon pantyhose.
Laura sat on the bed and crossing her legs she pulled back her dress, revealing her stockings tops and the tantalizing layers of nylon, clinging to her thighs.
She lifted and extended her legs to show how attractive the appeared in their shiny layers and crossed them at the ankles. Then she parted her legs and rubbed them together, so the nylon of her hosiery made a whispering sound as her limbs brushed against each other.
Reclining on the bed, she lifted her dress and hooking her thumbs under her black pantyhose, she pulled and stretched them around her waist. Then she stripped off the dress and caressed her perfectly formed, all natural breasts in the palms of her hands.
Standing in her heels, Laura posed topless in her lingerie with her long brunette hair falling over her shoulders and around the soft flesh of her shapely boobs.