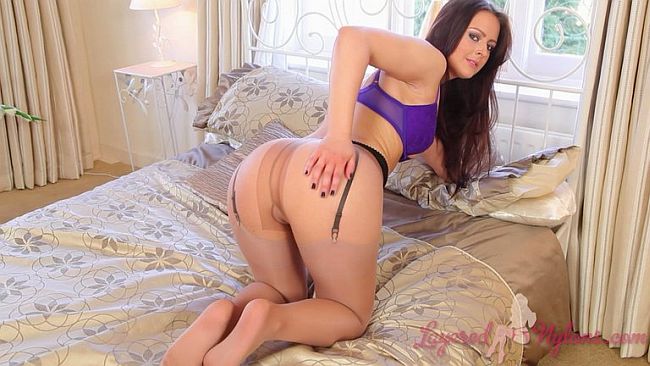 Bex swayed gently and ran her hands over her tight fitting dress, which clung to the curves of her figure and the shape of her fabulous ass.
Slowly, she teased up the back of the dress, revealing black suspenders and tan stockings, under a layer of beige nylon pantyhose. Then enticingly dipped her ass and swiveled it around, as her hands caressed her shapely buttocks, sheathed in their layer of tempting sheer nylon hose.
Kneeling on the bed, she looked back over her shoulder with a naughty smile on her face as she continued to exhibit her peachy ass, circling her hands over her bum cheeks encased in clingy nylon hosiery.
Bex stripped off her top to reveal a purple bra, which matched the scanty thong she was wearing under her sheer nylon tights. Then laying sideways on the bed, she slipped off her heels and caressed her legs and feet in their layers of delicate beige-tan nylon.
Bex removed her bra to uncover her pendulous, all natural breasts and lightly stroked them in the palms of her hand, then knelt once more, sitting back on her heels to display both her ass and the soles of her feet in their layers of sexy nylon.