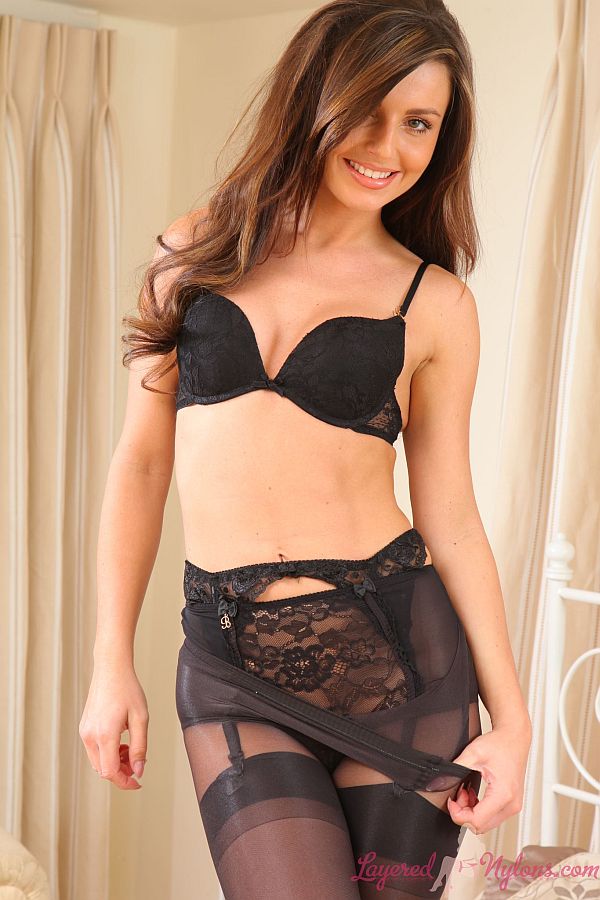 Caroline looked stunning as she posed in her black top and red leather pencil skirt, her legs clad in seductive black nylon and feet in sexy stiletto heels.
Sitting on the edge of the bed with her legs crossed and the tops of her stockings showing below the hemline of her skirt, she slipped off her heels and let them dangle from her toes.
Caroline stood in her stockinged feet and stripped off her black top top reveal she was wearing a black bra. Then she unzipped the side of her skirt and pulled it down to display her black lacy panties and suspender belt, under the layer of her sheer nylon pantyhose.
Reclining on the bed, she lifted up her legs to give close up views of her pretty feet in their cocoon of sheer black nylon. Then she knelt and sat back on her ankles, the cheeks of her ass spreading inside her sexy lace panties, as she displayed of the soles of her stockinged feet under her buttocks.
Caroline stood and hooking her thumbs into the waist of her pantyhose, she rolled them down to her thighs and uncovered her lace panties and suspenders. Then she pulled her hose back up and posed seductively in her black lingerie, layers of nylon and heels.