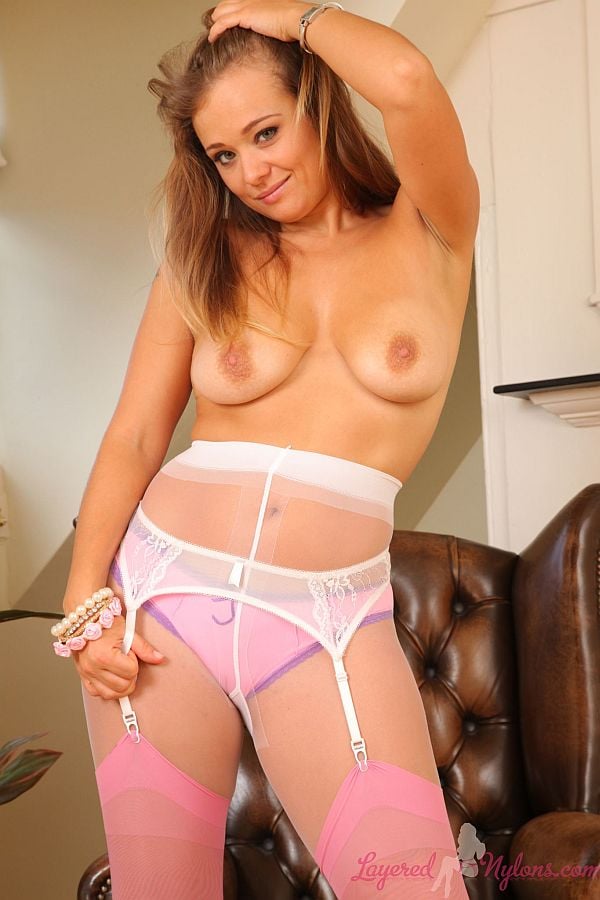 Ursula knelt in the chair and looked back over her shoulder as she placed her hand on her hips and slowly raised her dress. White suspenders attached to pink stockings were layered over the white nylon pantyhose which covered her shapely thighs.
She lifted the dress higher to show she was wearing a pair of pink panties that clung to the cheeks of her ass under her sheer nylon tights. She then sat down in the chair with her legs slightly apart, giving a tantalizing view of the white reinforced gusset of her pantyhose crotch.
Ursula stripped the dress over her head, revealing a pink bra that matched her panties, plus a white satin and lace suspender belt around her hips. She sat in the chair and lifted up both of her shapely legs and crossed them at the ankles. Her hand slipped between the layers of nylon around her thighs, causing her long white suspenders to pull taut on the tops of her stockings.
Ursula slipped the straps of her bra down her arms and teasingly held the cups in place over her chest. She then stripped the bra away to reveal the mounds of her all natural breasts. Reclining in the depths of the chair, she slipped off her heels and lifted up her feet to give a view of the soles in their layer of pink nylon.