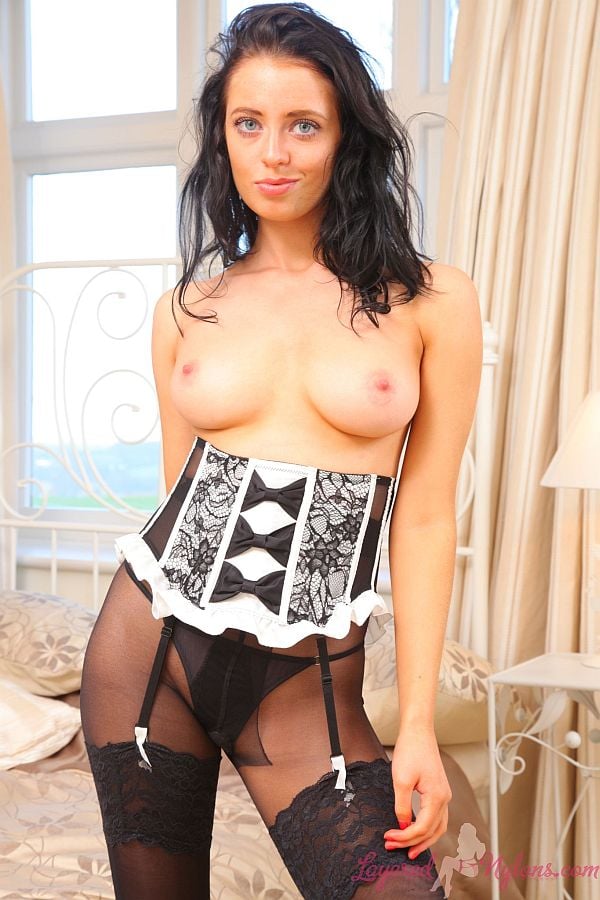 Layla knelt on the bed and slowly lifted the back of her pink-champagne coloured dress and presented her fabulously round ass sheathed in black, sheer nylon pantyhose; the taut suspenders pulling on the lacy tops of her nylon stockings.
Sitting, she slipped the thin straps of her dress over her shoulders and pulled down the front to reveal her all natural breasts with their soft, pink puffy nipples. Then she stripped the dress off to show she was wearing a black and white 'waspie' corset around her waist and a black pantie thong under her sheer nylon tights.
Layla turned for another view of her sexy bum, all nicely framed by the edge of her corset and the long black suspenders attached to the tops of her sexy stockings stretching over her buttocks and layered in black pantyhose .
Reclining on the bed, she lifted up her legs and eased off her heels, using her feet to remove each shoe, then pointed and flexed her toes inside their layers of black nylon. Then undoing her suspenders, she rolled her stockings down her legs to strip them off, followed by her pantyhose and displayed her naked legs as she sprawled on the bed.
Layla picked up her stockings and rolled them back on up to her thigh, where she reattached the suspenders. She then completed her reverse striptease by slipping into her sheer nylon hose and pulled them up her front over her corset and stretched almost to the level of her lovely breasts.