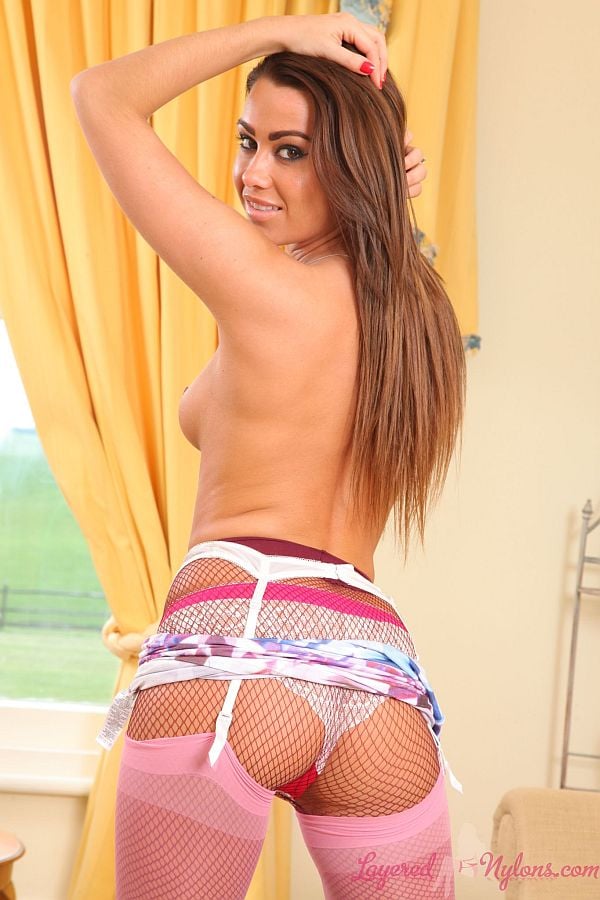 Gorgeous brunette Harriette looked stunning as she lounged on the sofa in a printed dress, her thighs clad in layers of pink hosiery and fishnet, her feet adorned in pink heels with gold stilettos.
Harriette knelt and pulled up the back of her dress, those fabulous bum cheeks of hers so sexy in their layer of fishnet hose, her panties cutting between the cleft of her buttocks.
Laying on her back, she lifted up her legs and crossed them at the ankles, her white suspenders stretching around her ass, pulling taut on the tops of her pink nylon stockings.
Pulling down the front of her dress revealed her all natural breasts and their thick nipples, one of which was pierced. Then stripping off her tight dress, she sat to slip off her pink heels and positioned her dainty stockinged feet on the floor, as she posed topless in her lingerie and hose.
Harriette gripped the waist of her white, sheer nylon suspender belt and pulled it up her belly, stretching it this way and that, so the suspenders strained on the tops of her stockings.
Standing in her stockinged feet, she turned to give a final view of her ass white lace of her panties, and layers of sexy fishnet pantyhose and suspenders, which enveloped the curve of her shapely buttocks.