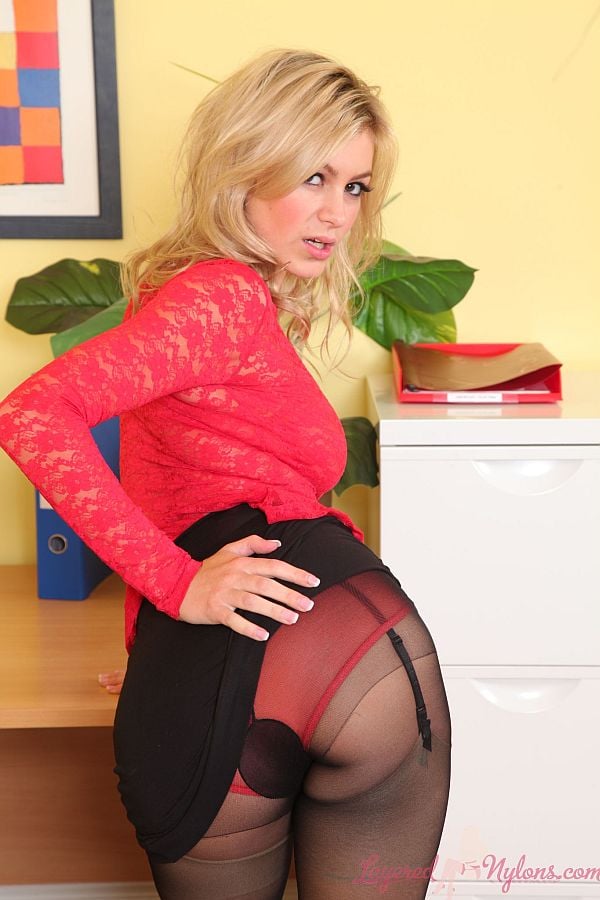 Sexy secretary Summer sat and crossed her legs so the edge of her skirt slipped up her thigh and revealed black pantyhose, layered over suspenders, attached to the tops of tan nylon stockings.
Stripping off her jacket, she leaned against the desk, then lifted the back of her skirt to reveal red, sheer nylon panties under the layer of her tights. She turned to look back, her hand resting on her hip and the long black suspenders stretching around the curve of her ass, pulled taut on the tops of her nylon stockings.
Summer stripped off her stretchy lace top and uncovered her red, sheer nylon bra through which the circles of her nipples showed, then pulled down her skirt to reveal the red and black lace suspender belt, under her waist high pantyhose.
She slipped under thumbs under the straps of her bra and peeled it off, then leaning forward she squeezed her all natural breasts between the sides of her arms and pushed her pendulous boobs outward.
Summer stood and posed topless as she pulled her black pantyhose down and over the cheeks of her bum clad in tight fitting red, sheer nylon knickers.