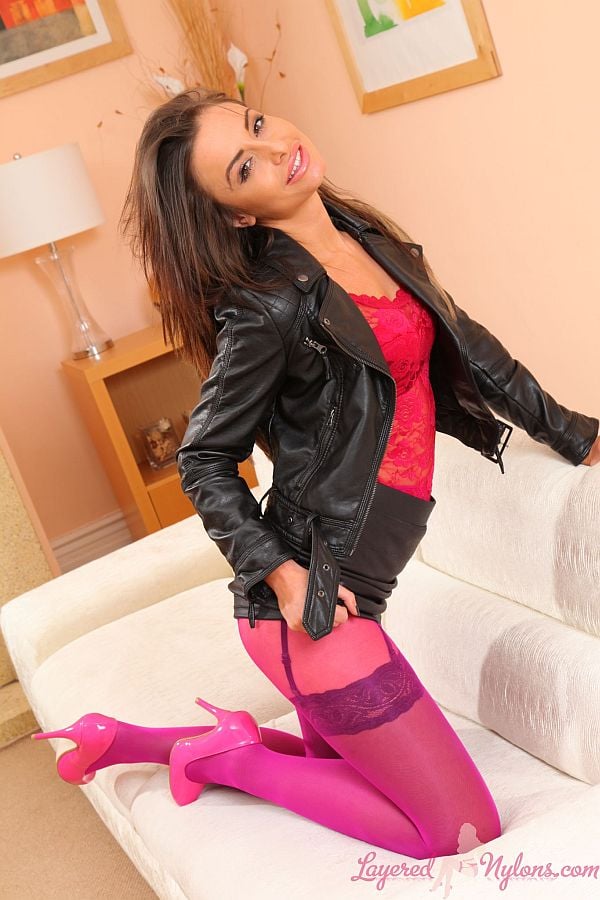 Sarah E looked stunning in her black leather jacket, tight fitting pencil skirt, sheer red lace camisole and dazzling pink hose and heels on her legs and feet.
Sitting on the arm of the sofa, she parted her legs slightly to give a tantalizing view up her leather skirt at the crotch of her panties under her layer of pink hose. Then turning, she knelt and pulled up the back of the skirt to reveal the black shiny seat of her panties, suspenders and lace topped stockings, under the layer of her sheer nylon tights.
Sarah removed her jacket and skirt and sitting sat with her legs crossed she dangled her candy pink heels from her feet, then stripped off her camisole to uncover the cerise and black lace bra underneath.
Standing she posed with the opaque pink oval of her pantyhose gusset stretched over her pink and black pantie thong and lacy black suspender belt, all under the layer of her sheer nylon tights.
Sarah stood in her stockinged feet and teasing the straps of her bra over her shoulders, she stripped it away and posed semi-nude and topless in her layers of lingerie and nylon.