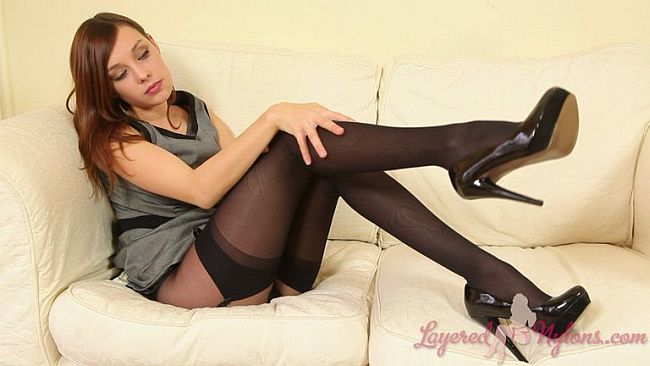 Gorgeous redhaired babe Jo E looked sort of demure, yet very sexy in her grey dress as she posed for us, her slender legs clad in black nylon and a pair of shiny heels.
Her shy manner made it all the more exciting as she slowly lifted up her dress to give a view of her pantie thong under the layer of her pantyhose, all nicely framed by her suspenders attached to the tops of her nylon stockings.
Sitting on the sofa, she slipped off her heels and caressed her shapely legs with sensual strokes of her hands, and pushed them between the layers of her hose and nylon stocking tops.
Jo stood in her stockinged feet and unzipped her dress at the back, letting it slide down her body sexy black lingerie, then pressed the flesh of her breasts together in their bra cups.
Turning around, she playfully drew her fingers over the her sexy bum encased in black nylon and gently squeezed her firm buttocks in her hands. She unclasped her bra and looked back over her shoulder as she slipped the straps down her arms, then turned to face us and reveal her perfectly formed all natural titties and stiff, rounded nipples.
Jo cupped her breasts in her hands to give them a squeeze and jiggled them about, as she posed topless in her layers of lingerie, nylon stockings and pantyhose.