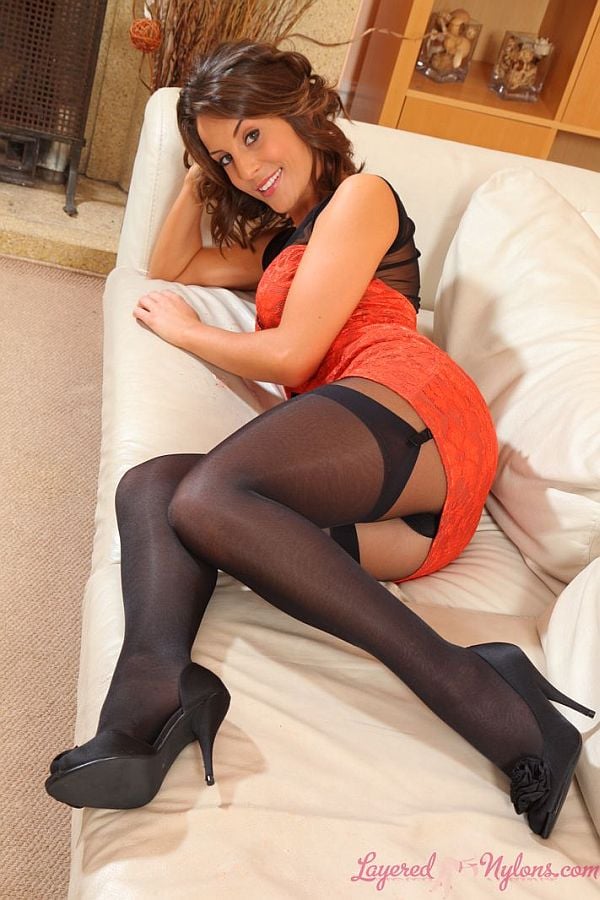 Emily J showed us her sexy new dress made of sheer nylon and red lace, which looked almost like a piece of lingerie fit for the bedroom rather than something you'd wear to a party, as she intended.
It was definitely an eye catching outfit that clung to the contours of her shapely ass, which also had a sheer nylon top that had the effect of drawing the eye down towards the cleavage of her breasts. Combined with her layer of black shiny nylon pantyhose, stockings and heels, the overall impression created an appearance that suggested this lady would be open to fun and flirting.
She lay on the sofa and smiled at our interest in the way her stocking tops and the sight of her black suspenders pulling on the tops of her stockings which appeared just below the hem of the dress which barely covered her thighs.
Emily teased us more by lifting the dress to show she was wearing a pair of leopard print panties under her sheer nylon pantyhose, then hooked her thumbs under the suspenders of her lacy garter belt and teasingly pulled them outwards.
Stripping off the dress completely she posed filly topless, then turned to bend over and give us a view of her splendid ass encased in sheer black hose, and finished by slipping off her heels for some closeup views of her sexy nyloned feet.