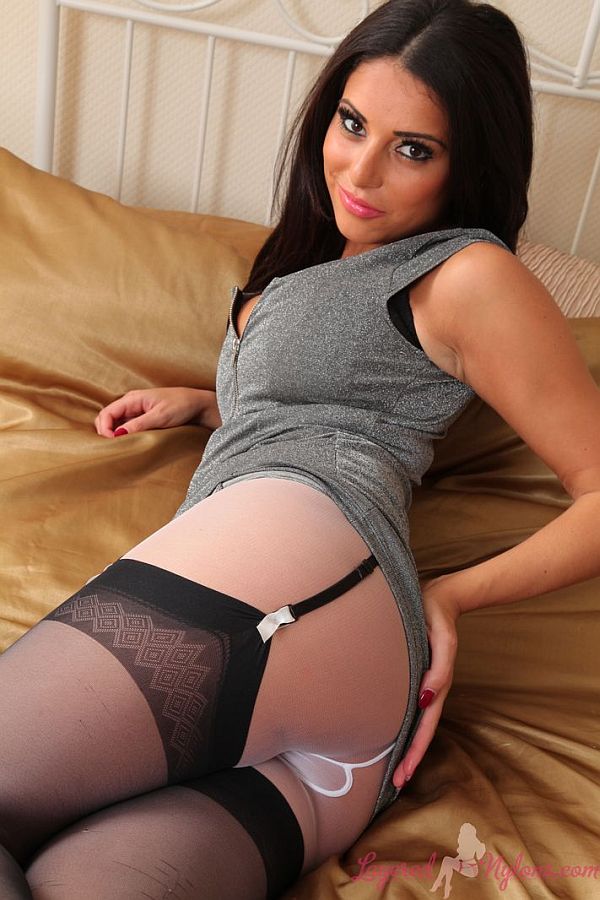 Charley S posed with her gorgeous long dark hair falling down the front of her tight dress which clung to the feminine curves of her fabulous figure. She slowly pulled down the zip of her dress, uncovering the soft flesh of her cleavage and pushed it together between her forearms to emphasize their voluptuousness.
Charley turned to present a view of her ass in her tight fitting dress through which could be see the bumps of her suspenders. She stood with her legs slightly apart, giving an upskirt view to show she was wearing black stockings and suspenders over a layer of sheer nylon pantyhose.
Laying on the bed she slipped off her heels and pulled the dress up her thighs to show there were black suspenders attached to the tops of her stockings. Then she knelt to show off the soles of her feet as she squatted down and stroked the curves of her splendid ass encased in tight, white nylon.
Unzipping the front of the dress revealed she was wearing an expensive, black under-wired bra and lacy, black and white suspender belt slung around her hips, framing a pair of black, full-cut panties that showed through the semi-transparent front of her nylon pantyhose.
Charley unhooked the back of her bra and teasingly held the cups in place as she pulled the straps over her shoulders, then stripping it away she held her palms over her breasts as she posed for the final shots of her ass and legs in their layers of black and white nylon.