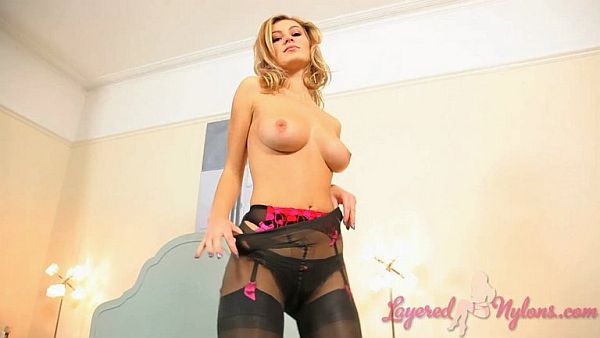 'Hello! I'm Summer and I hope you enjoy my strip,' said our gorgeous blonde as she began to snake her hips from side to side, lifting her slinky, short black skirt to show she was wearing a layer of sheer nylon pantyhose over stockings and suspenders.
Her hands moved over the tops of her shiny nylon layers below which she was wearing black, full-cut panties and a sexy black suspender belt with pink satin ribbons which covered each suspender clip attached to the tops of her black stockings.
Summer sat on the bed and caressed her slender legs in their layers of shiny nylon, then getting into a kneeling position she presented a view of her pert ass in panties, encased in tight fitting pantyhose.
Slipping off her skirt, she then sat up and opened the front of her low cut top to reveal a wonderful pair of peachy breasts which she lifted and squeezed together in her hands.
Lifting the top over her head she discarded it, then stood and hooked her thumbs into her pantyhose and rolled them down, turning as she did so to give a rear view of her bum in those sexy black panties she was wearing.
Summer continued her sexy hip sway as she turned around and stretched her pantyhose back up and then down again, in what can only be described as very erotic tease indeed.