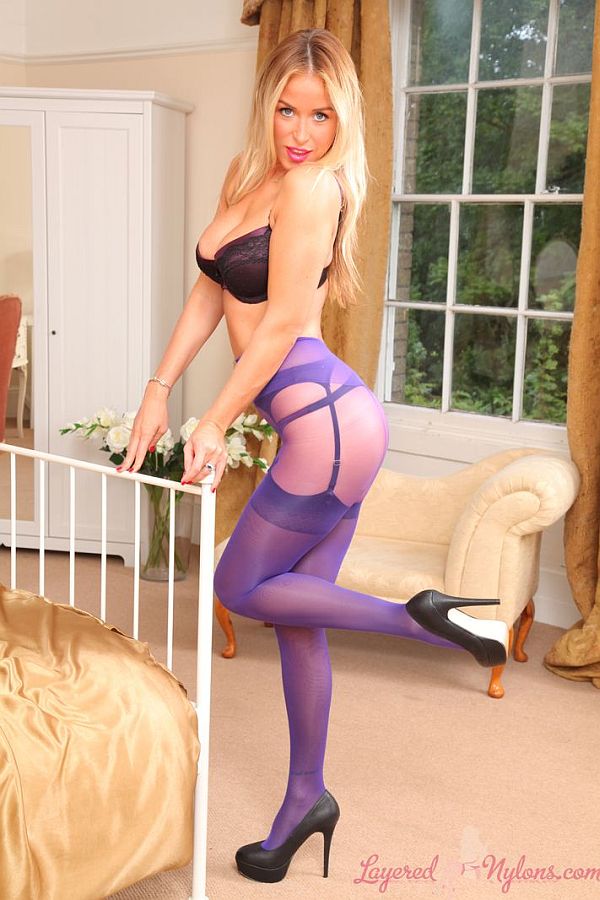 Leggy blonde Rosie W posed in a short denim skirt that barely covered her thighs, which were covered in plum coloured pantyhose layered over black nylon stockings, the tops of which were tantalizingly visible below the edge of her short skirt.
Rosie looked back over her shoulder, her long blonde hair falling down her back as she eased the skirt over her buttocks and let it drop to the floor, revealing she was wearing a pair of lacy panties and taut suspenders that stretched under the layer of hose to the tops of her stockings.
Pulling her tight black top down to her waist to uncover the black and purple bra beneath, she then let it slide over her thighs and down her legs so she could remove it. She turned to unhook the bra at the back and it sprang apart as the eyelets came undone, then slipped the bra over her arms to fully release her all natural breasts which she covered with her palms.
Rosie sat on the bed to slip off her heels, one by one, then lay back on the cool satin sheets with her arms folded under her naked boobs and extended her legs to point her feet in their layers of nylon.