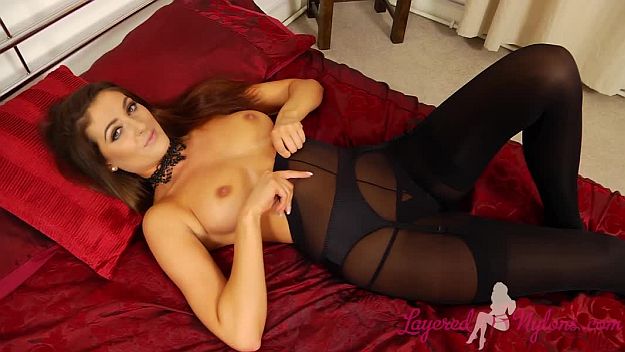 Demi looked so glamorous as she posed with hands on hips in her strapless, black sequinned evening dress, her long brunette hair falling over her naked shoulders.
She reclined on the bed, her sparkling black sequinned dress contrasted against the rich red bedspread, and pulled up the material to reveal her legs covered in almost opaque, black nylon hosiery. She unbuckled the straps of her sexy sling-backs and carefully slipped off each heel, then got up to stand in her stockinged feet.
Demi lifted up the folds of her dress and turned to reveal the pantie thong and suspenders that bound her buttocks, sheathed in their layer of black, nylon pantyhose. She striped the dress down to her waist, revealing her all natural breasts, then pulled the material over her shapely hips and it slid down her legs to the floor.
Stepping out of the dress, Demi posed topless in her lingerie – the black suspender-belt and suspenders framing the black triangle of her pantie thong, under the sheer nylon of her tights.
Demi reclined on the bed with her head on the pillow, looked up with her come-to-bed eyes and smiled seductively as she slipped her hand under the waist of her suspender-belt. She rolled over onto her front and looked back at her hand caressing her nylon clad ass, then slipped her fingers under the tops of her sexy, black stockings.