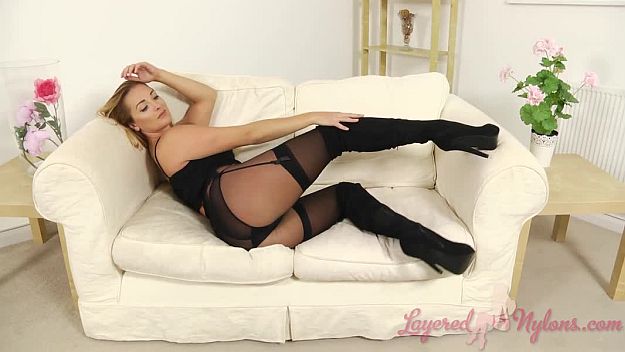 'Hi, guys. I'm Daisy and welcome to my sexy strip,' Daisy said, giving us a saucy smile and lifting her short, wine-red satin skirt to flash her suspenders and stockings tops.
Daisy spun around, looking over her shoulder with a sexy smile, her long blonde hair falling down her back, and her flirty skirt swishing around her pantyhose clad thighs and black stockings tops. She posed, pausing to let us admire the shapeliness of her legs in their black nylon hosiery and the sexiness of her suede, knee-high length boots.
Daisy lifted up the back of the skirt, revealing the black, almost sheer panties and nylon tights covering the cheeks of her ass. She swayed her hips and pulled the skirt over her ass, bending over so her panties and suspenders stretched around her buttocks as the skirt slipped down her stockinged legs.
Daisy turned and swayed in her black lace suspender belt and pantie thong, while posing seductively in her sexy, suede boots. She slipped the thin straps of her skimpy vest top over her shoulders and teased it down to reveal her beautiful, all natural breasts, which swung gently together as she leaned forward.
Daisy sat on the sofa, unzipped her boots and slipped them down her stockinged legs to strip them off. She lifted her legs, extending their length by pointing her pretty feet and rubbing them together in their layers of black nylon hosiery.