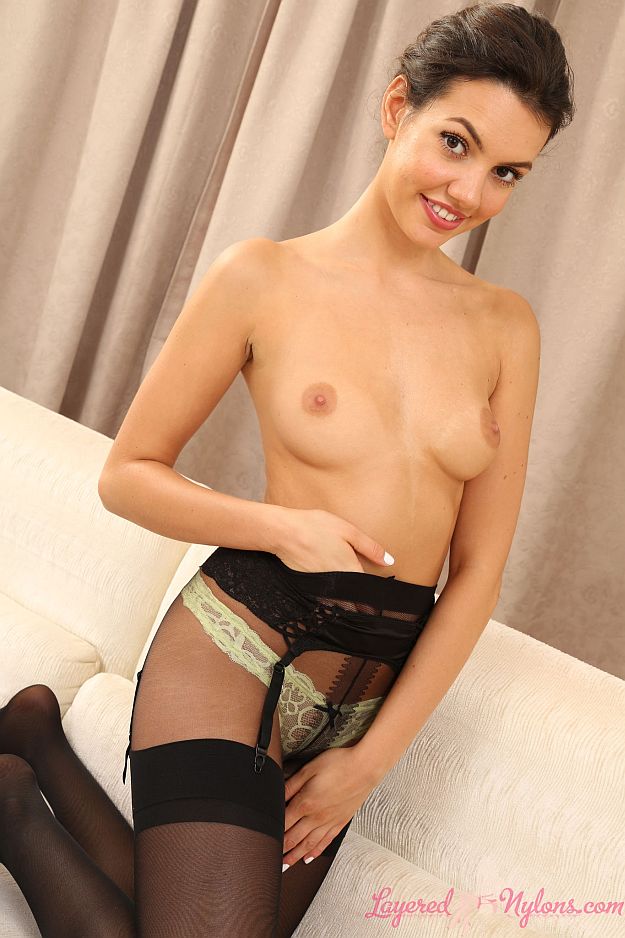 Abigail gave a saucy smile as she posed in her party dress, the raised bumps of her suspenders showing through the tight fitting material around her thighs.
Slowly lifting the hem of the dress, she revealed her lacy pantie thong, under black sheer pantyhose, framed by the back suspenders attached to her stocking tops.
Kneeling on the sofa, Abigail looked over her shoulder and gave a naughty smile as she pulled up the back of the dress to show her shapely ass sheathed in nylon. Her suspenders stretched taut around her ass cheeks and strained on the tops of her black stockings; the back of her thong slipping between the crevice of her rounded buttocks, under her sheer nylon tights.
Abigail stripped the dress down her body, bending slightly as she peeled it over her nylon clad ass and down her stockinged legs. She stepped out of the dress and turned to show the gentle upward curve of her naked, all natural breasts and soft, pink nipples.
Abigail sat and slipped off her patent leather stiletto heels and reclined on the sofa to show off her pretty feet in nylon. She lay and posed topless, slipping a hand down the top of her stockings and feeling the soft nylon of her pantyhose that covered thighs.