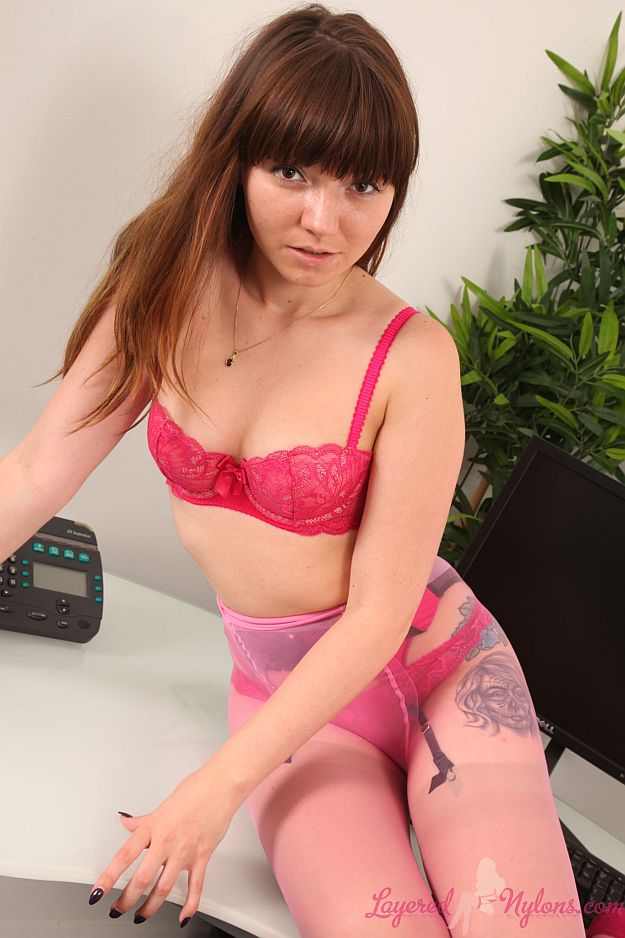 Helen arrived in the office today, looking smart but casual in a pink candy stripe shirt, short black skirt and her legs in some matching sheer nylon hosiery.
She's a cute brunette girl, a little shy, though she told us she had some tattoos and asked if we'd like to take a look at them. We're not that big on tattoos, but do like seeing girls in their underwear, so we let her go ahead and do a nice little striptease right there in the office.
Helen unbuttoned the top of her shirt and pulled up her skirt to reveal naughty pink panties, black suspenders and tan stockings, under a layer of pink, sheer nylon pantyhose.
We noticed the tattoo on her thigh as she stripped the black skirt over her pert bum cheeks, revealing her pink lace pantie thong under the layer of pink, nylon pantyhose. She turned and leaned over the desk, her black suspenders stretching over the cheeks of her lovely ass, pulling on the tops of her tan nylon stockings.
Helen stripped off her shirt and uncovered her fuchsia pink lace, balconette bra, and matching satin and black lace suspender-belt around her hips. She slipped the straps of the bra over her shoulders, holding the cups in place, before stripping it away to expose her petite, all natural breasts.
Helen sat in the chair and slipped off her pink and gold stiletto heels, then lifted her legs onto the desk top to show her feet in their layers of nylon. Pulling on the waist of her pantyhose, she stretched the nylon up her front and as far as she could over her petite, naked boobs.