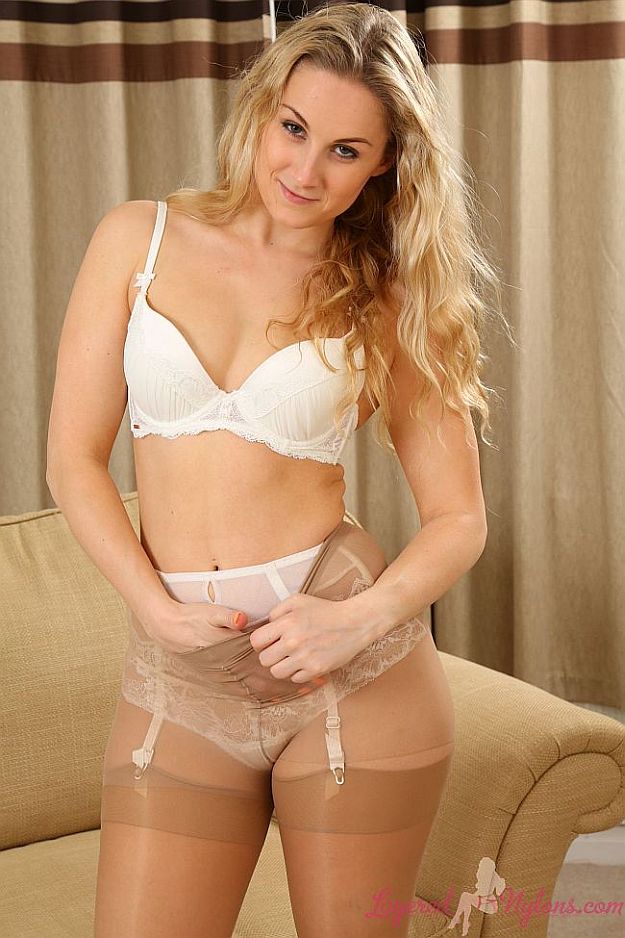 Saucy blonde Lily May smiled as she flirted in her peach coloured, sleeveless lace top and brown leather skirt, showing off her legs in tan nylon hosiery. Her bra showed through the sheer material of her lace top as she lay back on the sofa and lifted up her legs, crossing her ankles and displaying her patent leather court shoes.
Kneeling, Lily's long blond hair fell over her shoulder as she looked back and pulled up her leather skirt. Lace panties covered her buttocks, and suspenders stretched and pulled on her stockings tops under the layer of her sheer nylon pantyhose.
Lily stripped off her top and unzipped the leather skirt which slipped down her stockinged legs to the floor. She stepped out of the skirt and pushed her hands down the inside of her hose and over the cheeks of her pantie clad ass.
Lily stood and unclipped her bra, holding the loose cups over her breasts before stripping it off and revealing her petite, all natural tits. Posing topless, she pulled  on the waist of her pantyhose so the gusset stretched tight around the crotch of her lacy panties.