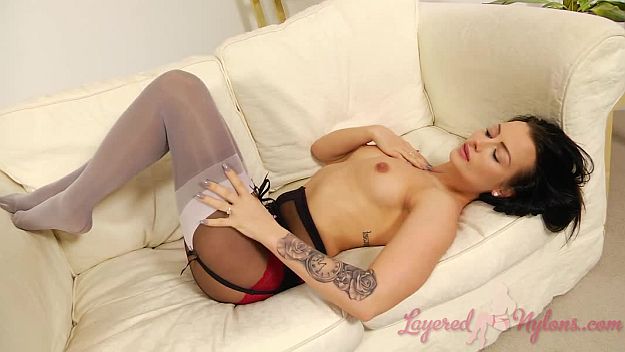 Kelli Smith posed in her off-shoulder pink party dress, caressing her curves and turning to show the bumps of her suspenders, visible thorough the tight material that covered her shapely ass.
Reclining on the sofa, she stretched out her legs, and pulled back the dress over her thighs, revealing black suspenders attached to the tops of her white nylon stockings, layered over black pantyhose.
Her hands swept over her nylon clad legs and down to her ankles, whereupon she slipped off her sexy, strapless heels. Then she raised her legs and held her feet together, pointing her toes and showing the soles of her feet in their layers of nylon hosiery.
Kelli knelt and pulled up the back of her dress, revealing red, full-back panties, clinging to her buttocks under the seamed, sheer nylon of her pantyhose. She ran her thumbs under the black straps of her taut suspenders, tugging them outward and letting them snap back against her pantyhosed thighs.
Kelli stood in her stockinged feet and stripped off the dress, bending in her suspenders and stockings as it fell down her legs to the floor. She stepped out of the dress and turned to pose topless, her hands caressing and uplifting the soft, warm flesh and erect nipples of her all natural breasts.