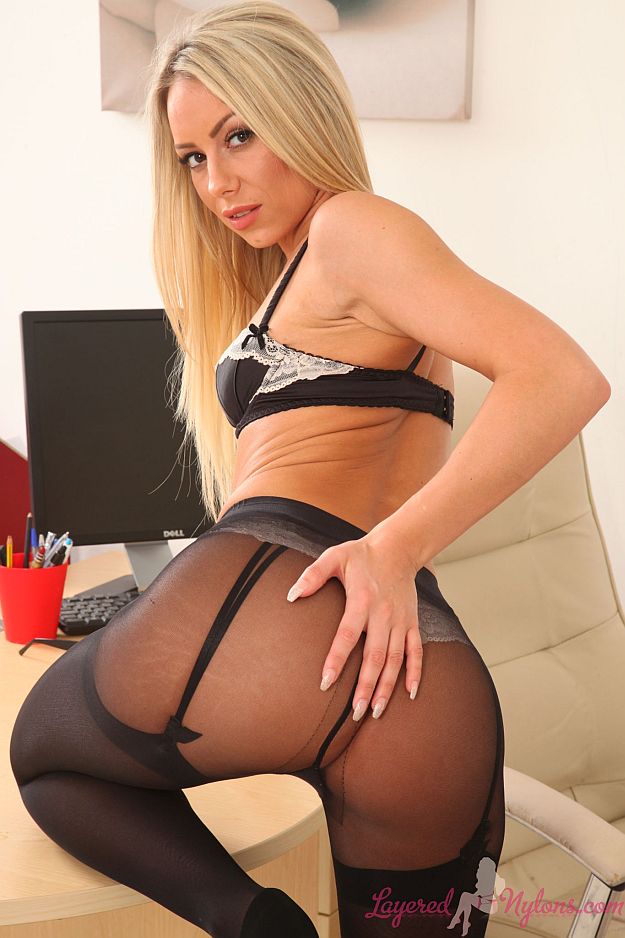 Stunning blonde secretary Keleigh stood by the desk posing in her pin-stripe shirt and short black skirt which gave a glimpse of her black stocking tops. She slipped her glasses down the bridge of her nose and peered seductively over the rim, then turned to give a tantalizing look at her bum cheeks in black pantyhose, just under the hem of her skirt.
Keleigh pulled up the back of her skirt, revealing black suspenders stretching over her buttocks and tugging on the tops of her stockings, under the layer of her sheer nylon tights. She looked back at us, holding the skirt around her waist and displaying her shapely ass and legs, which were complimented by the seductive black hosiery and stiletto heels.
Keleigh unbuttoned her shirt and stripped it off to reveal a black balconette bra, trimmed with cream coloured lace along to top edge. Then she slowly pulled down the skirt to show the black suspender-belt and matching French knickers underneath her sheer nylon hose.
Keleigh sat and her shapely buttocks spread out over the flat surface of the desk; the white lace of her knickers showing through the stretchy, black nylon of her pantyhose. She turned and stood with her legs slightly apart, pushing her hands down the rear of her hose and spreading her fingers over the soft flesh of her ample buttocks.
Keleigh stripped off the bra to reveal her gorgeous, all natural breasts, and posed topless in her lingerie with her hands down the front of her sheer nylon pantyhose.