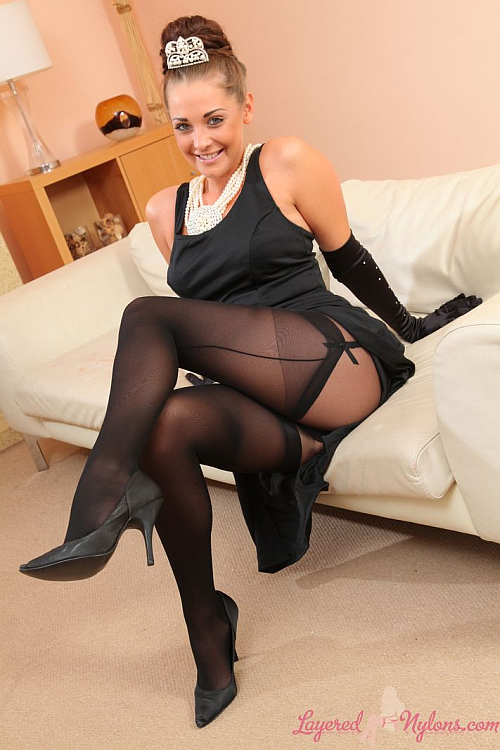 Daisy Watts looked like she was ready to go to the ball in her elegant, long black evening dress, opera gloves and tiara. There was something very sexy about the dress in itself; the way it covered her legs and hung all the way down to her heels, making the imagination run wild with curiosity as to what she was actually wearing under there.
We didn't have to wait long to find out to fine out as Daisy simultaneously lifted and parted the dress at the front, revealing she was wearing a layer of sheer black nylon pantyhose over some incredibly sexy seamed black stockings and suspenders.
Sitting on the sofa she crossed her legs and ran her hands all the way down them to the ankles and touched her heels. Then she moved her hands back up and over the sexy seam that ran up the length of her leg to the thigh, to where the long black suspenders pulled on the tops of her nylon stockings.
Daisy stripped out of the dress and stood posing in her lacy bra, and revealing for the first time the matching suspender belt and panties under her layer of sheer to waist pantyhose. Pulling the straps of the bra over her shoulders, she turned away from us to remove it. She then turned back with her gloved hands covering her breasts, before finally uncovering them and posing for some topless views.
Daisy pulled the pantyhose downwards for a closer look at her lingerie, making sure to give us a look at her naked ass as well. She then sat and dangled her heels from her nyloned toes, before removing them and pointing her dainty feet encased in their layers of nylon for some close up shots. Daisy then stood once more and pulled her pantyhose right up her waist until they were stretched just under her breasts and turned to feel her buttocks through the layer of hose that covered them in tight nylon.
Daisy Watts looks incredibly sexy as she teases in her layer of sheer nylon pantyhose over seamed black stockings and suspenders in this 133 image photo set at Layered-Nylons.