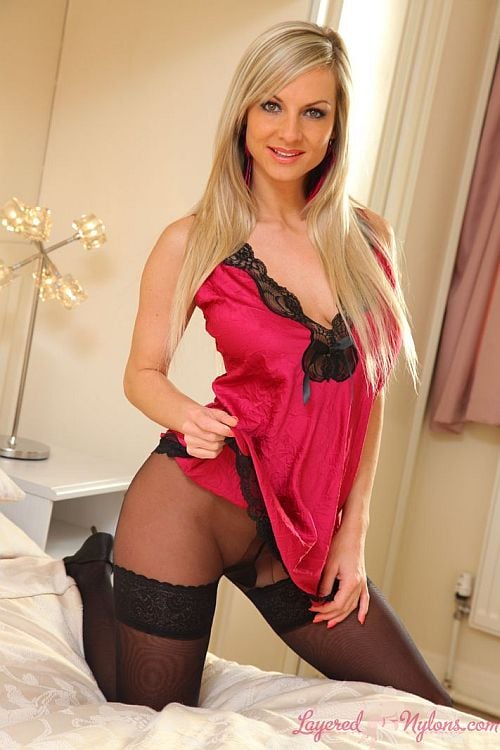 Tammy stood and lifted her left leg so it brushed against the nylon of the other and looked back over her shoulder with her fingers combing her long blonde hair. The edge of her pink satin chemise raised slightly and gave us tantalizing views of the tops of her black, hold-up stockings which were layered under sheer nylon pantyhose.
Her shapely legs shimmered in their layers of nylon as she pulled up the back of her chemise and placed her hands firmly on the cheeks of her perfect butt encased in slick, black nylon pantyhose. She then turned to give a frontal view and show she was sans panties under her sheer nylon hose, then knelt on the bed and slipped her chemise off her shoulders to uncover her naked breasts.
Removing the chemise she sprawled half-naked over the bed, slipping off her heels and then raising her legs in the air as she pulled off her pantyhose until she was just left to pose wearing only her hold-up stockings.
Tammy removed her stockings and posed fully nude for some full-frontal views, then pulled on her pantyhose, followed by her stockings, for the remaining shots of herself posing in her layers of sexy nylon.
See stunning blonde Tammy stripteasing in her layers of nylon pantyhose and stockings then get fully-naked in this 156 image photo set at Layered-Nylons.