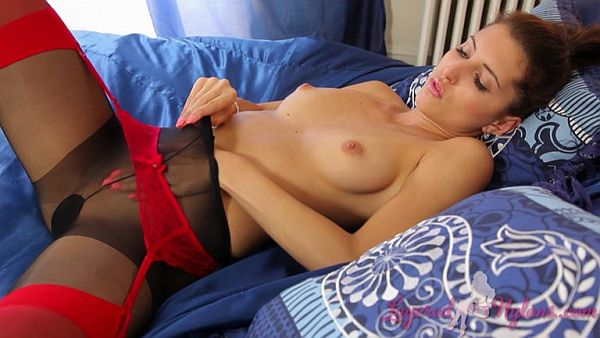 Ann swayed in her elegant red satin evening dress as she turned and moved her hands over her body, then lifted up the folds of shimmering fabric to reveal she was wearing red stockings and suspender belt over black, sheer nylon pantyhose.
She hiked the dress up so it was wrapped around her waist and circled her hands over the cheeks of her ass encased in sheer nylon hose; the long red suspenders stretching over the curve of her buttocks as she moved her ass from side to side in a very sexy sway.
Ann untied the bow at the back of her neck that held up her dress and lowered the front to uncover her breasts which were naked underneath, then let the dress slide down her legs to the floor, whereupon she stepped out of it and sat on the bed.
She opened her legs to reveal she was sans panties under her pantyhose and moved her hand up her nyloned thighs and over the opaque patch of the gusset covering her genitals. A glimmer of sexual desire flashed in her eyes as she lay back and slipped her hand down the front of her sheer to waist nylon hose and touched the flesh of her naked thighs and crotch.
Ann performs a very seductive and sexy tease in her layers of stockings and sheer nylon pantyhose in her video at Layered-Nylons.