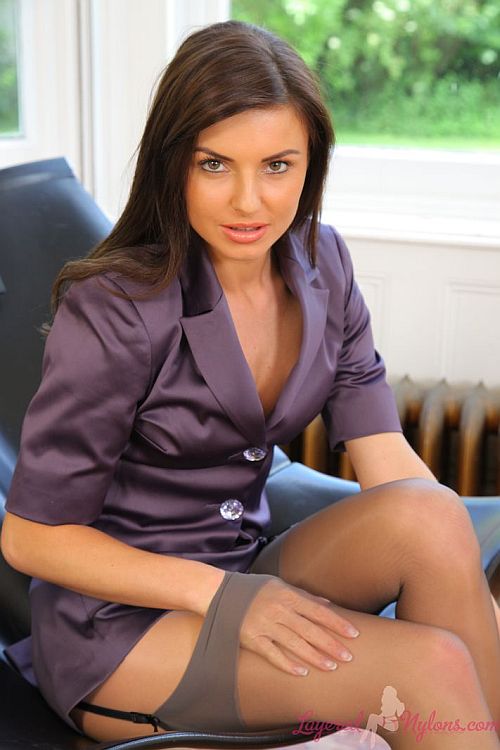 Caroline looked very smart and sexy as she stood near the bay window and posed, the outlines of her suspenders just visible through the tight material of her chiffon skirt.
Turning to look out the window, she hitched up the edge of her skirt to give a tantalizing glimpse of her black suspenders attached to the tops of a grey nylon stockings, both of which were layered over beige sheer pantyhose. She turned once more to pose for a frontal view of her long, slender legs which looked incredibly sexy encased in their shiny nylon layers.
Caroline unbuttoned her top to reveal she was wearing a black bra and unzipped her skirt to let it side down her legs to where it pooled around her heels on the floor. She was wearing some very opaque black, full cut panties with an ornamental chain attached to the front two buttons and stood posing with her hand on hips showing off her underwear.
Having removed her top she reclined in a chair and slipped her hand down the tops of her stockings and moved it between the layers of nylon that covered her legs. She tugged at the waist of her pantyhose and then stood once more to pull her hose up her waist and flat belly.
Caroline unhooked the front of her bra and turning she looked out through the window as she removed it, then folded her arms over her breasts as she turned back for the final shots.
See stunning brunette teasing in her layer of shiny stockings over sheer nylon pantyhose in this 133 image photo set at Layered-Nylons.