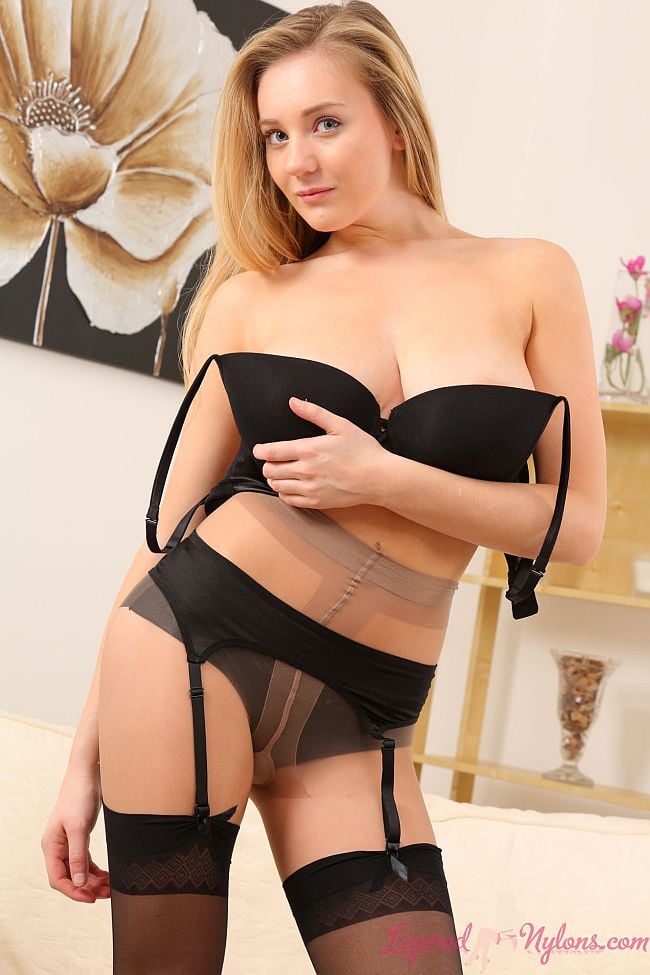 Charlie gave us an alluring look as she posed, long blonde hair flowing around her neck and shoulders, down to her cleavage framed by the open front of her low cut dress.
Charlie lifted the dress to show she was wearing a layer of tan pantyhose, black suspenders and stockings. Sliding her hand down the inside of her stockings, she spread her fingers over her thigh clad in the soft, sheer nylon of her hose.
Charlie eased the dress over her shoulders, revealing the soft flesh of her cleavage supported by the cups of her black bra. Slowly drawing the dress down her body, she turned to show her ass clad in black panties under the layer of her tan, sheer nylon pantyhose. She slipped both of her hands between the layers of her nylon hosiery, causing the black suspenders to strain on the tops of her stockings.
Releasing the catch of her bra, she held the cups over her chest as she slipped the straps over her shoulders, then stripped it away to expose her large, all natural breasts. Framing her voluptuous tits with her arms, she squeezed the mounds gently together as she posed in her suspenders, panties and layers of nylon hosiery.