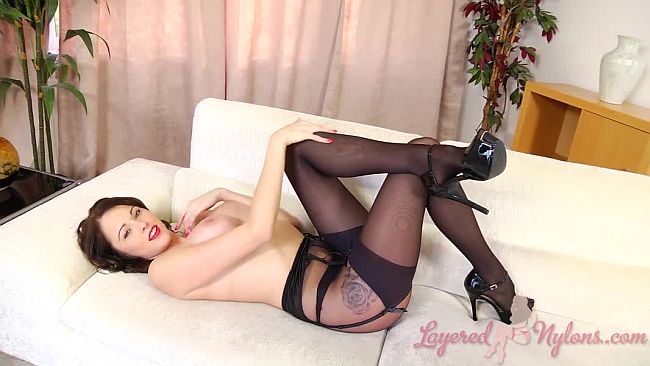 'Hi, I'm Lacey and I've got a big surprise for you as I'm wearing both stockings and tights,' says our saucy model, posing with her hands around the waist of her black dress. 'I want to give you a little striptease, so I hope you enjoy it!
Lacey gives a sexy wiggle as she slowly eases up her dress and slips her fingers between the layers of her black pantyhose and sheer nylon stockings. She pushes her hands deep and caresses her nyloned thighs, causing the suspenders to strain on the tops of her stockings.
Lacey turns, revealing the 'whale tail' of her black pantie thong under the layer of her sheer nylon pantyhose, which clings to her sexy bum cheeks. She circles her hand over the curve of her buttocks sheathed in smooth nylon and runs her thumbs along the inside of her stocking tops.
Lacey unzips the back off her dress and teases out of it to reveal her naked boobs, the black satin suspender-belt around her hips, and pantie thong under her sheer pantyhose. Then reclining on the sofa, she lifts up her legs and draws her hands over the surface of her black hosiery and shows off her feet in their shiny leather, stiletto heels.