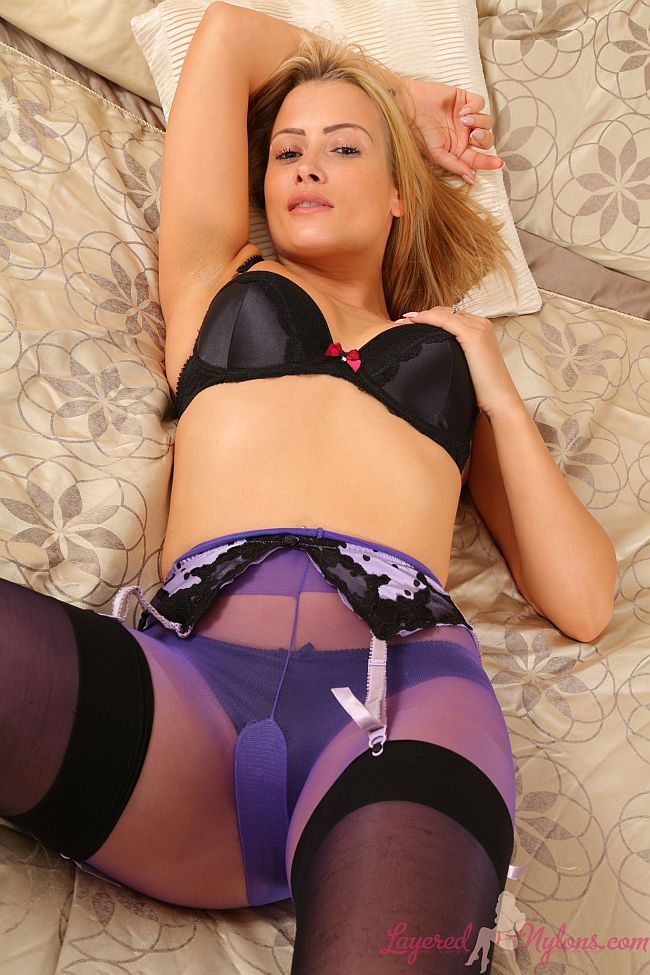 Kelli posed in a short dress that flared out around her thighs and drew our eyes down to her shapely legs in sheer nylon hosiery and sexy, sling back heels.
Sitting poised on the end of the bed, she brushed the instep of her foot up the back of her calf and lifted her knee to give us a tantalizing view of her stocking tops under her dress.
Reclining on the bed and pulling her dress over her thighs, she slipped a hand between the layer of plum coloured pantyhose and the tops of her black nylon stockings. Slipping off her heels, she stretched her legs to give a close-up view of her feet and flexed her toes inside their layers of nylon hosiery.
Kelli stripped off her dress, revealing a black, shiny satin bra, and polka dot patterned suspender belt layered over her hose and attached to her stockings. Then laying back on the bed, she opened her legs to show the purple-plum colored oval gusset stretched over the crotch of her black, full back panties.
Finally stripping away the bra, she posed topless in her lingerie and caressed the soft flesh of her petite, all natural breasts and their thick, puffy nipples.