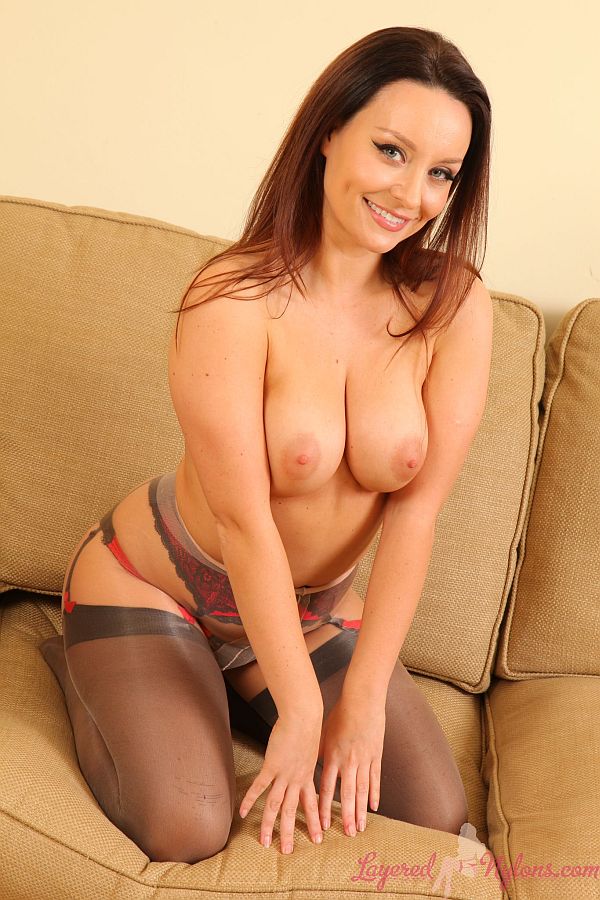 It's always a welcome return for Carla and this time she's looking good in a vest top, short red skirt, a layer of shiny hosiery on her legs and a pair of black heels.
Carla stood and lifted up her skirt to show she was wearing her black stockings and suspenders, under a layer of shiny, beige-tan nylon pantyhose.
Stripping off her skirt and top revealed a red silk and black lace bra and suspender belt; the suspenders attached to her stockings framing matching red lace panties, under the layer of her sheer hose.
Laying on the sofa, she opened her legs to give a view of her delicate lace and silk panties, which looked so hot and sexy behind the nylon gusset of her tights.
Pushing her hands down the front of her hose, she moved them around under the taut nylon screen, her fingers caressing the soft flesh of her thighs and the silky crotch of her tight panties.
Carla then stripped off her bra and kicked off her heels to pose topless in several positions, and flaunt her sensual curves in her sexy layers of lacy lingerie and nylon hosiery.