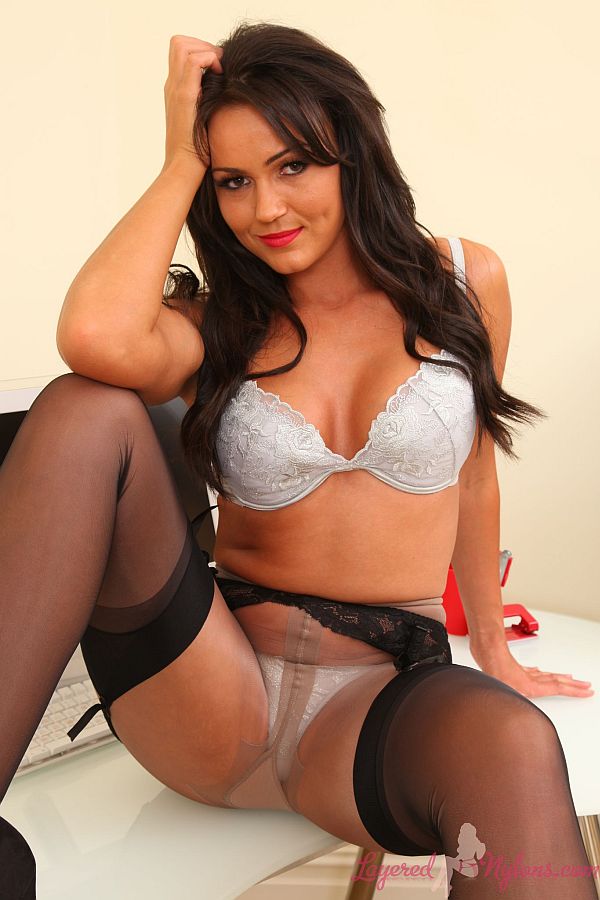 Stunning secretary Kat Dee is all dressed up classic style in a loose white blouse, tight black mini-skirt, stockings and heels in this photo-set.
Working with Kat in the office is always fun as she really loves to tease by wearing the shortest skirts that hint she is wearing suspenders and reveal the tops of her shiny black stockings.
Sitting in her chair she crosses her alluring legs and slowly brushes one against the other, causing her nylon stockings to whisper as they rub together.
Loosening her blouse, she leans forward and gives a tantalizing glimpse of cleavage, then opens it fully to reveal she is wearing a lacy bra.
Kat strips off her blouse and skirt, turning to give a view of her fabulous ass, sheathed in the dusky layer of beige-tan pantyhose, which clings to the curve of her shapely buttocks.
Kneeling on the chair, she pushes out her ass and her black suspenders stretch around her bum and pull taut on the tops of her black, nylon stockings.
Kat strips off her bra and lays on the office floor to slip off her heels, then she lifts up her legs in the air, crossing them at the ankles and pointing her toes in their layers of sexy nylon hosiery.