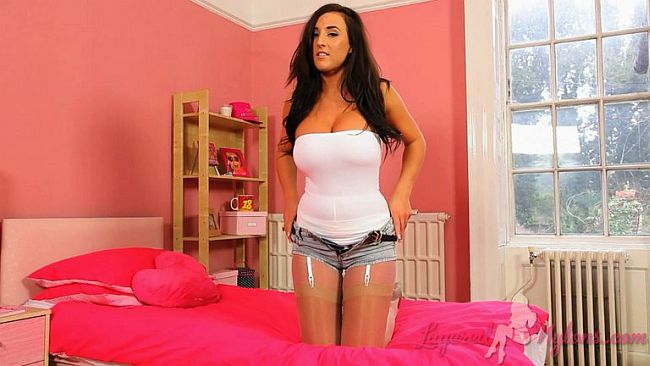 Wow! Stacey is wearing the most incredibly sexy outfit for you today, just check out her latest video…
Tight fitting white 'boob tube' that clings to the mounds of her huge breasts! A pair of denim shorts that look so snug around the curves of her bum…
Hot suspenders attached to the tops of her shiny, tan nylon stockings, all nicely layered over beige pantyhose around her shapely thighs and her feet in a pair of glittery heels.
Stacey loved wearing this combo and felt so sexy as she ran her hands all over her body, ass and legs. Undoing the belt around her waist, she slid her shorts down her legs to reveal white panties, under the layer of her sheer nylon hose.
Her ass looked fabulous in her white panties and her long, white suspenders stretching around her buttocks and pulling taut on the tops of her sexy stockings, looked very erotic.
Stripping off her top, she revealed more of her huge breasts and turned around to give a view of her tight bum cheeks sheathed in her panties and shiny nylon hose.
Stacey posed topless, fondling her massive breasts in her hands and caressing the outline of her curves through her layers of white lingerie and sheer nylon hosiery.