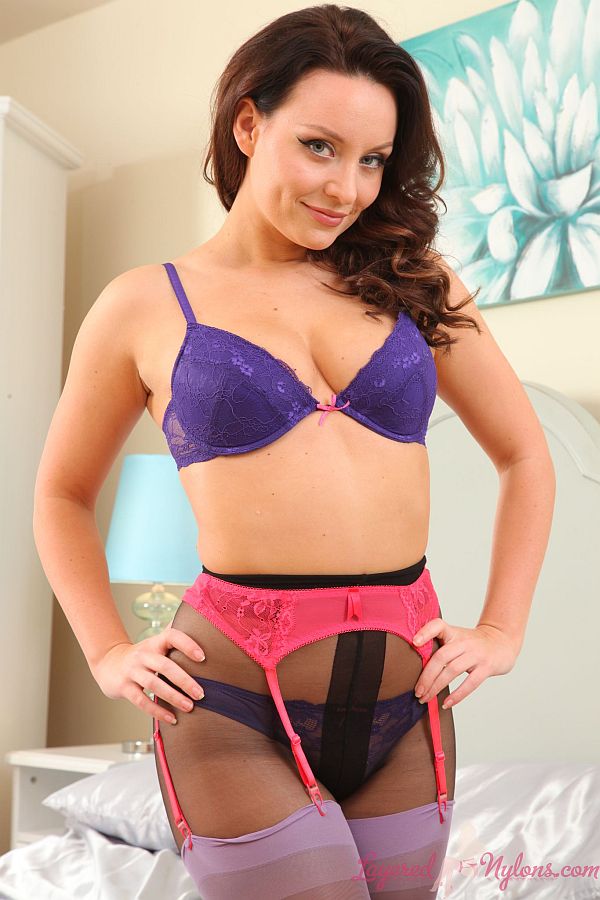 Carla really knows how to tease and lifting the folds of her silky dress she gave us a glimpse of her thighs covered in black pantyhose and pink suspenders attached to the tops of her purple, nylon stockings.
The material of her dress rustled as she moved onto the bed and reclining she opened her legs to reveal the opaque, black gusset of her pantyhose, stretched over the purple lace of her pantie thong.
Carla looked up and gave a sexy smile as she spread her legs wider and pushed her hands between the layers of her hosiery, causing the webbing of her pink suspenders to strain on the tops of her purple stockings.
Carla lifted the back of her dress and bent over to present her buttocks encased in black, sheer nylon and her legs, which looked so shapely as she stood in her fabulous, black and gold stiletto heels.
Stripping off her dress revealed she was wearing a lacy purple bra, then pushing her hand under the waist of her pantyhose and pink suspender belt, she slipped her fingers down the front of her lacy panties.
Carla removed her heels and kneeling on the bed she slipped the straps of her bra over her shoulders and exposed her perfectly formed all natural breasts. Then she lay back on the bed and lifted her legs upward, crossing them at the ankles as she displayed her feet in their layers of nylon hosiery.