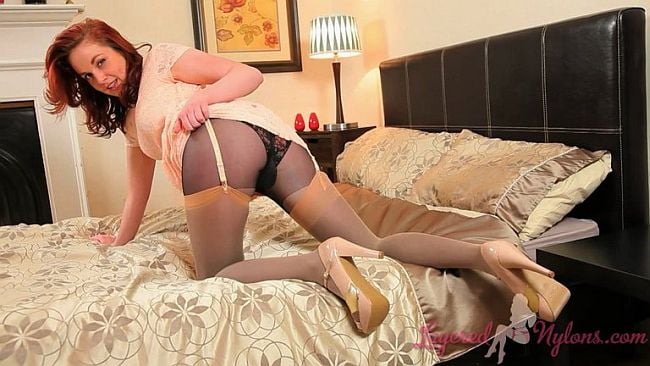 'Hi boys. I'm off to a party tonight. What do you think about my party dress?" Kara said as she stood and posed in her short dress that showed her thighs in beige tan hose. 'I've got some lovely peep toe shoes on and underneath my dress I have not one, but two layers of nylon, so what do you think about that?'
Kara climbed onto the bed and kneeling she lifted the back of her dress to reveal she was wearing cream coloured suspenders and tan stockings, layered and over black pantyhose.
'I love my suspender-belt which really contrasts with the black of my pantyhose and my stockings feel so silky against my tights,' she said, pulling her dress up and over her ass to reveal she was wearing pretty floral panties, under her sheer nylon pantyhose.
Kara unbuckled her shoes and taking them off, ran her hands along the length of her extended leg and pointed her feet and toes in their layers of nylon.
Stripping off her dress revealed a matching floral bra and lace, suspender-belt around her waist, then laying back she opened her stockinged legs to show the crotch of her panties behind the reinforced gusset patch of her nylon tights.
Stripping off her pretty bra, she teasingly held the cups in place and then concealed her breasts with her arms and turned to show off her ass, all nicely layered in pantyhose and her suspenders pulling taut on the tops of her sexy nylon stockings.