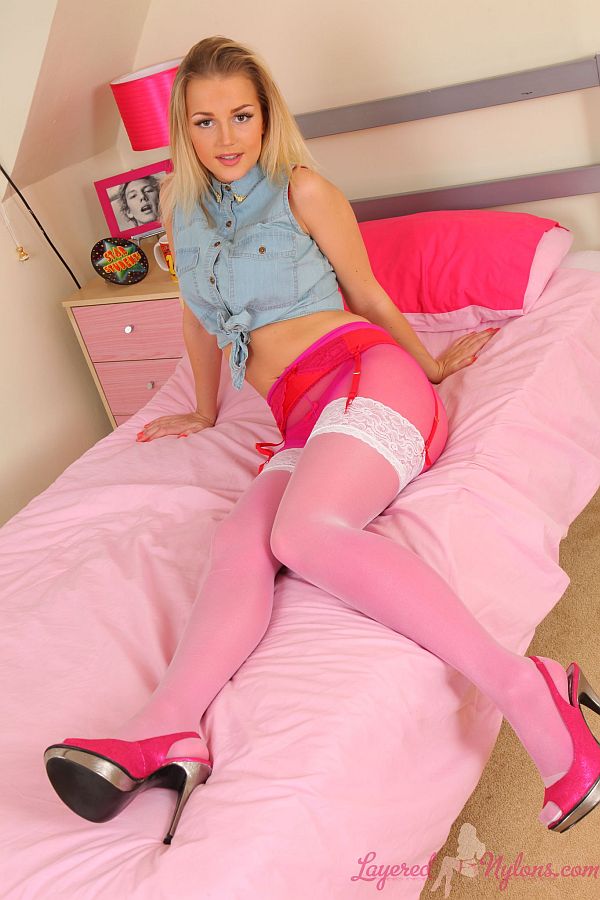 Beautiful blonde babe Victoria A looked so hot as she posed, provocatively displaying the lace tops of her white stockings just below the hem of her her skimpy skirt, her feet in a pair of red, strappy heels.
Victoria sat on the edge of the bed and opening her legs, revealed the gusset of her bright pink pantyhose that she was wearing under her contrasting white stockings.
Kneeling on the bed, she unzipped the front of her short skirt and pulled it down to present the cheeks of her fabulous ass, which looked so round and tantalizing, sheathed in sheer nylon pantyhose. A red suspender belt clung round the girth of her curvaceous hips and the suspenders stretching over her buttocks, pulled taut on the tops of her stockings.
Victoria stripped off her top, revealing a sizzling red satin and lace bra that matched her suspenders, then teasingly slipped the straps over her shoulders to uncover her gorgeous breasts and large, pink nipples.
Slipping off her heels, Victoria lay back on the bed and lifting up her legs she crossed them at the ankles to give close up views of the soles of her feet in their layers of pinkish nylon hosiery.