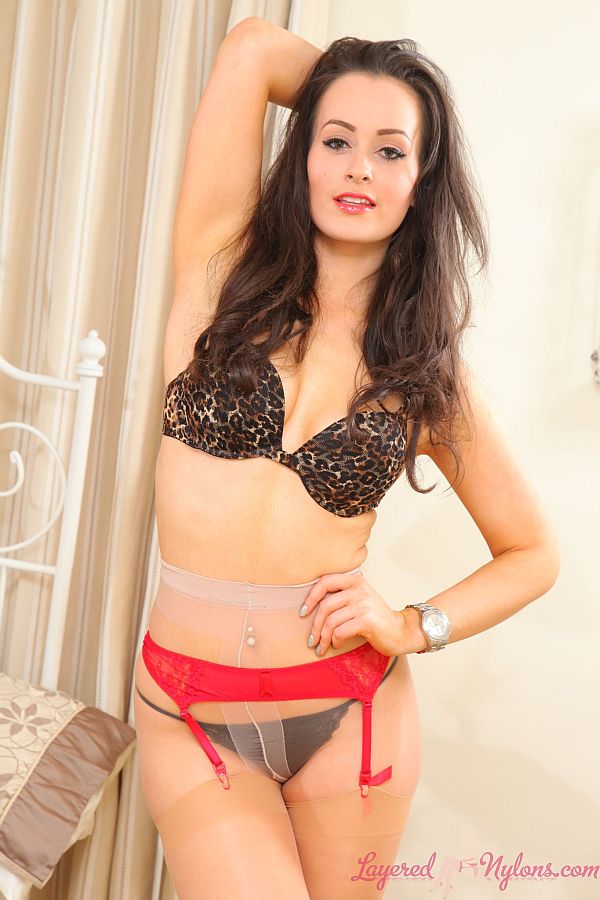 Brooke sat on the edge of the bed and slightly parted her legs to give a view under her dress of the beige-tan, gusset of her pantyhose, stretched over black lacy panties.
She then lifted the dress higher to reveal she was wearing red suspenders attached to the tops of her tan nylon stockings, which blended with the tan colour of her sheer nylon tights.
Brooke stripped away the dress and showed she was wearing a leopard print bra, then lay on the bed to display her long legs in their stockings and red shoes with their silver spiked heels.
Pulling down the straps of her bra over her shoulders, she peeled the bra away to uncover her petite all natural breasts, posing topless in her sheer to waist pantyhose, red suspender belt and black pantie thong.
Brooke sat and slipped off her red heels, letting them dangle awhile from her toes, then lay on the bed to offer close up views of her nyloned feet and the oval gusset of her pantyhose stretched over her sexy black panties.