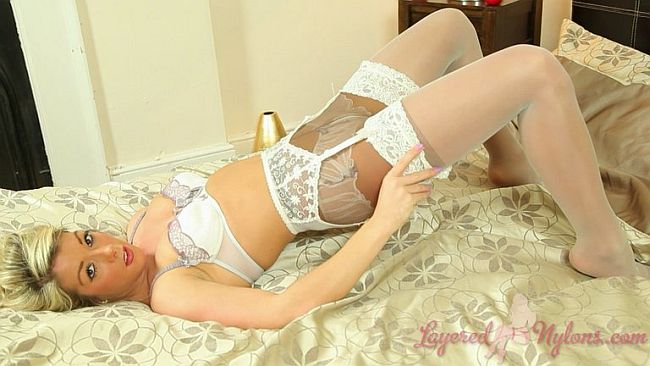 'Hi I'm Tillie, welcome to my video. I'm here to show you what I'm wearing, I hope you enjoy,' Tillie said, looking really cute as she posed in her tight fitting lace top that clung to her breasts, gold metallic skirt, shiny nylons and ugg boots.
Kneeling on the bed she gave a view of her rear as she pulled up the skirt over her ass and revealed the white lacy tops of her stockings and suspenders, layered over dark-tan nylon pantyhose.
Tillie pushed out her bottom as her fingers caressed the bumps of her suspenders and stocking tops, then she felt the cheeks of her ass through the clingy sheer nylon of her hose, layered over the white, sheer nylon of her French knickers.
Tillie slipped off her boots, revealing her feet sheathed in their nylon layers, then pulled off her top to uncover her white lingerie bra. Stripping off her skirt she sprawled on the bed, looking highly desirable as she lay and arched her back and pulled on in her white lacy suspender belt and stockings.
Tillie raised her legs and pointed her feet, drawing her hands over the shiny surface of her silky stockings, then stripped off her bra to display the petite mounds of her perfectly formed breasts.