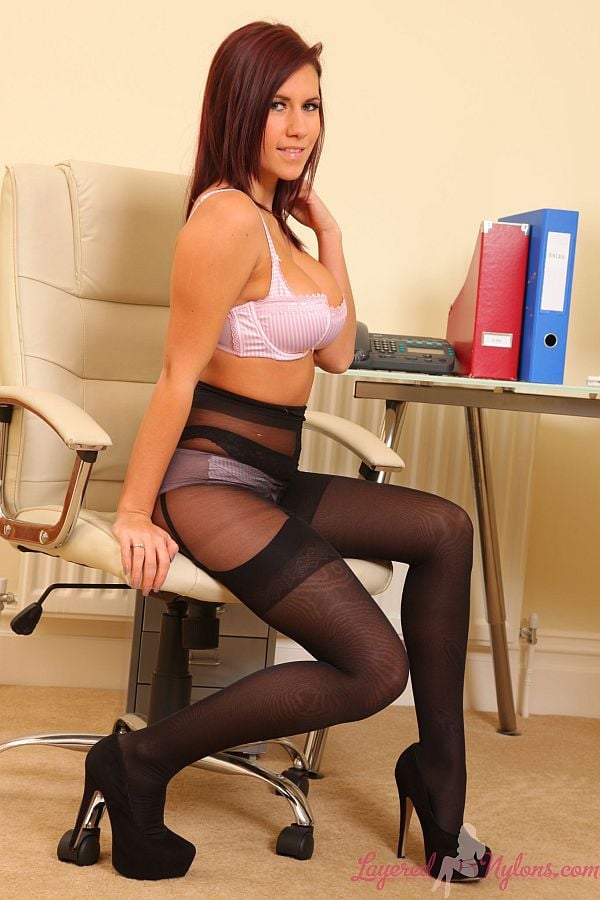 If your secretary came to work dressed in a skirt so short you could see the tops of her nylon stockings, would you send her home to change into something else?
Apparently not Victoria's boss. When she went to work one day wearing her black mini-skirt and nylon stockings, he was suitably impressed. What he didn't know was that she had layered her stockings and suspenders over some black pantyhose, which felt kind of sexy in a way she had never experienced before.
Perhaps it was all the attention she was getting from her male colleagues, or maybe the fact they had no ideas she was wearing a naughty layer of pantyhose under her skirt. Whatever, her teasing games were all having an effect, both on herself and the guys in the office.
Sitting cross legged in her chair, her skirt pulled back over her thighs to give a tantalizing glimpse of her stocking tops. Kneeling beside the filing cabinet and pretending she was unaware how they could see of her underwear up her skirt.
Fortunately, you get to see a lot more when Victoria strips off and reveals her pink bra and removes it to display her large, all natural breasts with their soft nipples. Or when she pulls down her the layer of black pantyhose to show off her bum in some pink, sheer nylon panties. Yes, not the sort of thing you normally see in the office, but we can all dream.