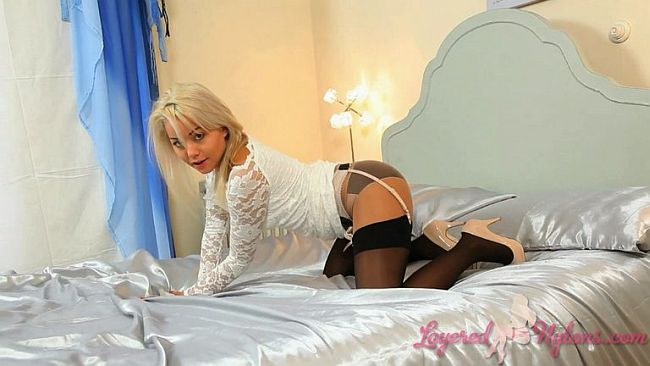 Lily looked so pretty as she posed in her white lace dress which clung to her shapely figure, her legs sheathed in black nylon and a pair of cream coloured open-toed shoes on her feet.
Slowly, she raised the hem of the dress over her nyloned thighs and playfully tugged on the cream coloured suspenders attached to the tops of her black stockings, both of which were layered over tan, sheer nylon pantyhose.
Lily turned to show the taut white suspenders contrasting against the colour of her full-back panties under the layer of pantyhose that sheathed her ass in clingy nylon. She ran her fingers under her suspenders as they stretched over the cheeks of her pantyhosed ass and pulled on the tops of her black stockings.
Lily knelt on the bed and tilting up her rear, she slipped her fingers down the tops of her stockings and moved her hands over her ass encased in panties and nylon. Then she pulled the dress over her shoulders to reveal her all natural breasts and lay back, her sensual hands caressing the length of her slender legs in their layers of black nylon.