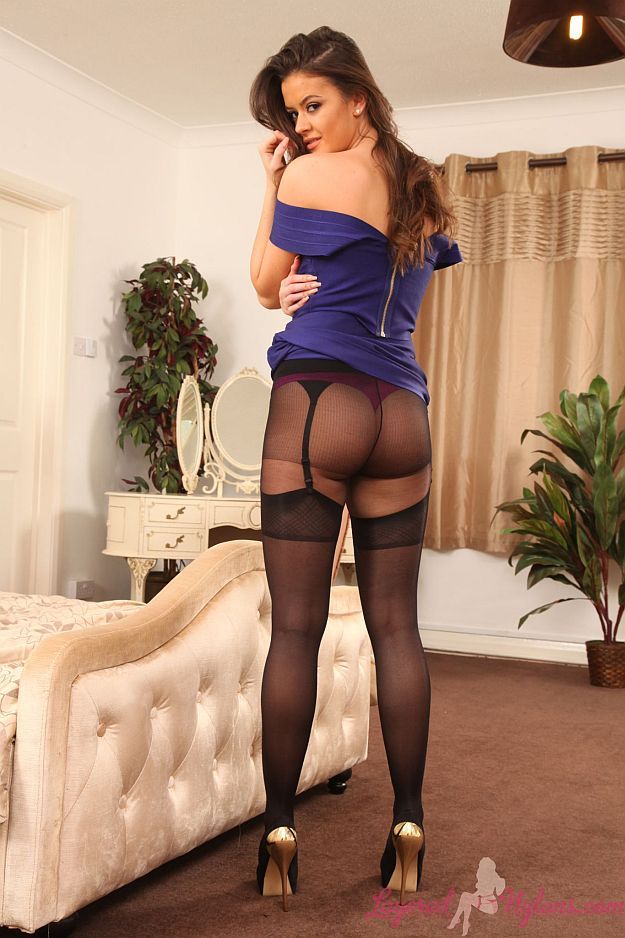 Brook A slipped the shoulders of her purple top down her arms, turned and  looked back as she stripped her skirt over the cheeks of her ass. She revealed the 'whale tail' of her magenta coloured thong and the black suspenders that lay under her sheer nylon pantyhose. Stripping the skirt down her legs in their black nylon hosiery, she stepped out of it and stood posing in her golden stiletto heels.
Brook knelt on the bed and pushing her head down and her rear end up, her suspenders stretched around the curve of her fabulous buttocks and strained on her sexy stockings tops. She lifted her head and rested on her knees while stripping off her top and revealing her all natural breasts and soft brown nipples.
Reclining on her back she opened her legs wide and pulled the pantyhose up her front so the nylon stretched tight around the crotch of her leopard print panties. Slipping off her heels, she lifted her legs high and crossed her ankles to display the soles of her feet and toes covered in layers of black nylon hosiery.