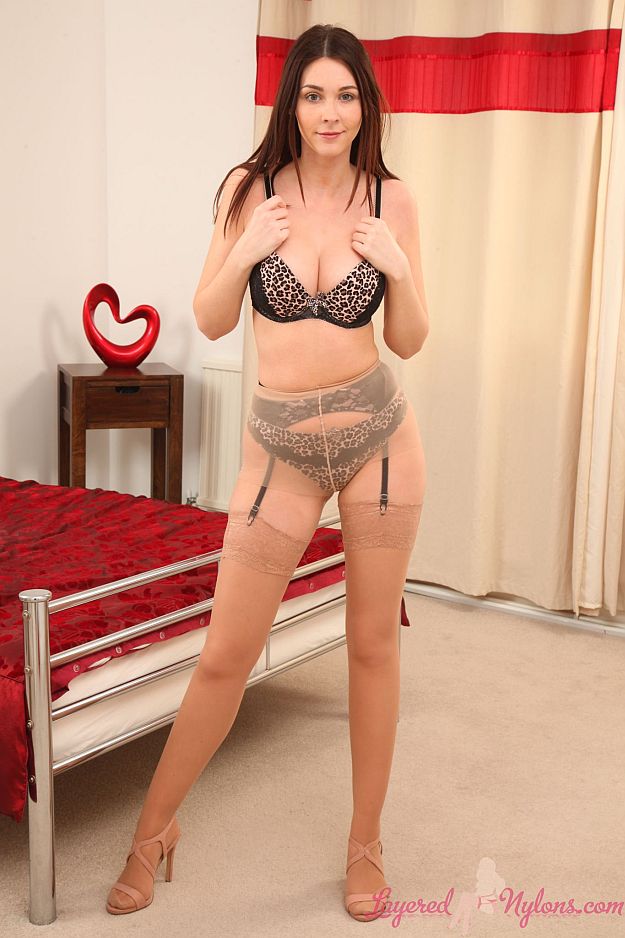 Lauren reclined on the bed and pulled up the edge of her orange dress. Her black suspenders and lace tops of her beige stockings showing through the layer of sheer nylon pantyhose that covered her legs.
Lauren rolled over and lay on her back, lifted her legs and crossed them at the ankles, causing her suspenders to stretch around her thighs and pull taut on her stocking tops.
Lauren stood by the bed and lifted her dress to show the black lace suspender-belt and leopard print panties around her shapely hips. She turned to show the 'whale tail' of her sexy pantie thong and the cheeks of her ass encased in thin nylon pantyhose.
Lauren stripped off the dress, revealing a matching leopard print bra and leaned forward to give a view of her rounded cleavage. She climbed onto the bed and knelt, slipped the bra straps over her shoulders and stripped away the cups to uncover her well formed tits and soft brown nipples.
Lauren folded her arms underneath her boobs as she lay back on the bed and posed topless in her lingerie and layers of nylon hosiery.