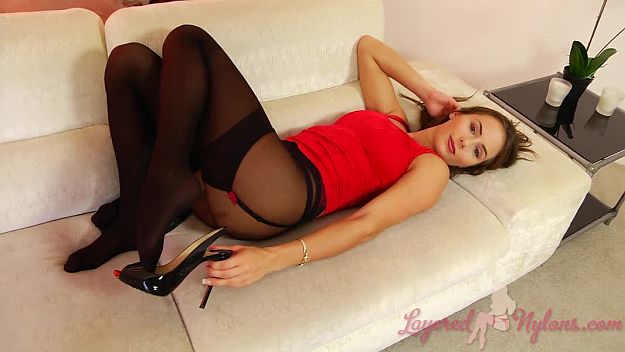 Laura H sat on the sofa wearing a red satin vest top and shiny black skirt, her shapely legs crossed to display them in black hosiery and sexy, slingback heels.
Laura looked up as she pulled down the stretchy material of her satin vest and gave a tantalizing view of her cleavage. She knelt and pulled up the skirt, her hands caressing her buttocks encased in their layer of black hose, under which she wore suspenders and seamed stockings.
Laura stripped off the skirt and lay on her back to slip off her stiletto heels and wiggle her toes inside their layers of black nylon. She sat up, crossed her arms and stripped the vest over her head, revealing perfectly formed breasts with large round areola and soft brown nipples.
Laura got up to stand in her stockinged feet and revealed the red suspender-belt and suspenders framing the black pantie thong under her sheer nylon pantyhose. Her hands swept over her naked tits and pushed the soft flesh of her boobs together, while she posed semi-nude in her lingerie and layers of nylon hosiery.