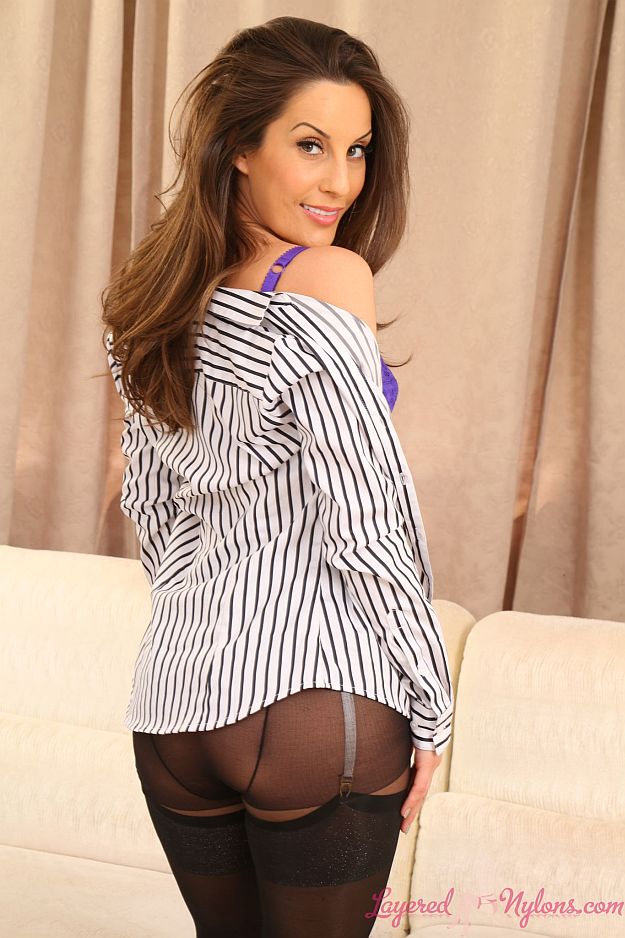 Gorgeous secretary Emily J knows how to makes an impression, wearing her striped white linen shirt, black pencil skirt and nylon hose on her legs, she looks so classically dressed as she begins her striptease in her latest photo set.
Emily knelt on the sofa and rested on her arms, lifting her pert ass which looked so attractive under that tight skirt and kicking back her heels. She pulled up the skirt, revealing a purple pantie thong, white suspenders and black stockings under the layer of black, sheer nylon pantyhose.
Emily stripped the skirt down her legs and over her heels, then got off the sofa and stood with her back to us as she pulled the shirt up around her waist. She pushed out her ass and the black suspenders stretched tight around the curve of her buttocks, which looked so sexy in their layer of black nylon hose.
Emily unbuttoned her shirt and teased it over her shoulders and down her arms, revealing the straps of her purple lace bra. She stripped off her shirt and reclined on the sofa, then slipped off her heels and lifted her legs to display her pretty feet in their layers of black nylon hosiery.
Getting up to stand in her stockinged feet, she stripped away her purple bra and uncovered her all natural breasts while posing topless in her black suspenders and layers of nylon hose.